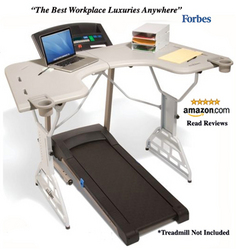 TrekDesk is either in use or in the study planning stages at a number of leading universities across the country analyzing the physical and mental benefits of walking while working
Phoenix, AZ (Vocus) December 20, 2010
Great discoveries have come from American basements and garages over the past century and the basement of the Loree gym at Rutgers University hopes to add its name to the list with a study focusing on job productivity. Enlisting 150 Rutgers undergraduate students and the TrekDesk Treadmill Desk the study aims to determine if low intensity exercise favorably influences job productivity.
Interviewed for the Rutgers publication "Focus" lead researcher Brandon Alderman, an assistant professor at the Department of Exercise Science and Sports Studies, summed up the goals of the study: "We're learning that people perform better when given the opportunity to stand and move around while they're at work. So from a productivity standpoint, it might be best if they're also moving while they're working."
The students use the TrekDesk Treadmill Desk in conjunction with a treadmill and walk between .5 to 2 mph while completing tasks such as reading a magazine or working at the computer. During their 20-30 minute sessions Professor Alderman administers a number of tests to gauge the effect of exercise on executive functions such as planning and decision-making.
"TrekDesk is either in use or in the study planning stages at a number of leading universities across the country analyzing the physical and mental benefits of walking while working," stated Steve Bordley, CEO of TrekDesk. "We are anxious to see the results of 150 college students using the TrekDesk since we see inactivity as a critical challenge in schools and offices across the nation. We have engineered movement entirely out of employee's lives and that of their children and this trend must be reversed immediately not only from a productivity standpoint but also general overall health."
Designed to fit any existing treadmill, TrekDesk is an affordable, full sized workstation allowing individuals the opportunity to gain the necessary amount of exercise daily to maintain health, prevent disease, strengthen muscles, boost mood and productivity, without requiring additional time during the day or extra motivation.
TrekDesk is currently available for sale online at TrekDesk.com for $479.00 including free shipping.
Join the TrekDesk "Movement Revolution" to learn more on TrekDesk's Facebook page at http://www.facebook.com/pages/TrekDesk-Treadmill-Desk/80743563805.
###