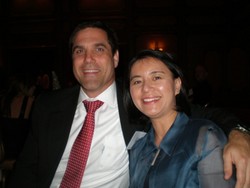 San Diego, CA (PRWEB) December 23, 2010
Fogarty-Hardwick v. County of Orange, et al.; Superior Court of California, County of Orange; Case No. 01CC02379 (Trial before Hon. Ronald L. Bauer, Dept. CX103).
After a decade of litigation, Orange County must now pay nearly $9.5 million to a mother whose children were wrongfully removed from her care in February 2000. On December 17, 2010 Orange County Superior Court Judge, Ronald Bauer (Dept. CX-103) awarded Deanna Fogarty-Hardwick nearly $1 million in attorney's fees to help defray the cost of defending her judgment and jury verdict on appeal. These fees are in addition to the $1.6 million judge Bauer awarded to attorneys for their work at trial. On March 23, 2007 an Orange County Jury found against Orange County, social worker Marcia Vreeken, and social worker supervisor Helen Dwojak and awarded monetary damages of $4.9 million. In total, including interest, costs, and attorneys fees Orange County must pay Ms. Fogarty-Hardwick naerly $9.5 million. A third social worker, Elaine Wilkins was found not liable.
The case was originally filed in February 2001 by Deanna Fogarty against the County of Orange, Marcia Vreeken, Elaine Wilkins, and their supervisor Helen Dwojak to recover damages arising from these defendants' falsification of evidence, perjury, and suppression of exculpatory evidence during a juvenile dependency action in February of 2000. On March 23, 2007, an Orange County jury found against Orange County, social worker Marcia Vreeken, and social worker supervisor Helen Dwojak and awarded monetary damages of $4.9 million. Elaine Wilkins was found not liable.
In addition to seeking damages, Ms. Fogarty-Hardwick also obtained an injunction against the Orange County Social Services Agency prohibiting its practice of making allegations of wrong doing against parents in dependency proceedings without supporting evidence. The California Court of Appeal reversed the injunction, but in a scathing opinion upheld the remainder of the judgment and jury verdict.
Ms. Fogarty-Hardwick is pleased with Judge Bauer's decision and remains hopeful that Orange County will take steps to ensure that its policies comport with law, and that its workers follow the law and refrain from injuring other families the way the injured hers.
Mr. McMillan said: "My only comment would be: Way to go guys. You have succeeded in converting a five million dollar verdict into a nine million dollar bill. It would have been much more cost effective for the taxpayers if the Board of Supervisors simply required the Social Services Agency to promulgate some policies and provide training to prevent the type of conduct that happened here. The taxpayers of Orange County should be outraged at their government; A jury found that it allowed its workers to pursue a personal vendetta against our client which essentially destroyed her life. Instead of taking responsibility for the damage they caused Ms. Fogarty, the County continues to spend precious taxpayer dollars to defend a broken child 'welfare' system."
It bears note that Ms. Fogarty-Hardwick originally offered to settle the case for $500,000. Orange County has not yet paid the judgment. But instead has decided to Appeal the judgment to the United States Supreme Court. In the meantime, interest on the judgment continues to accrue at the rate of $1,900 per day.
San Diego Lawyer Shawn A. McMillan, of the Law Offices of Shawn A. McMillan, was lead Appellate Counsel and Lead Trial Counsel in the case.
For additional information, contact:
Shawn A. McMillan, Esq.
THE LAW OFFICES OF SHAWN A. McMILLAN, A.P.C.
4955 Via Lapiz
San Diego, California 92122
Telephone: (858) 646-0069
Facsimile: (206) 600-4582
Website: http://www.mcmillan-law.com
# # #