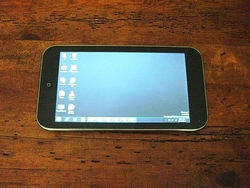 We wanted to launch a tablet that did everything, not just a media player or eReader or net book but all those things and much more
Los Altos, CA (PRWEB) December 22, 2010
IN Media Corp. (IMDC.OB) today announced the release of the Windows 7 Tablet PC, The Tablet PC runs on the full featured Windows 7 operating system the most popular operating system in the world. The product is powered by the 1.66GHZ Intel Atom processor and unlike most tablets comes with a whopping 160 GB hard drive of storage built in allowing users to store all their content including music, games and movies. The Tablet comes with an HDMI interface for viewing high definition content on the tablet or via the tablet to a large screen HD TV.
With a forward facing camera and an 11 ¼ by 6 inch brilliant LCD screen Skyping and social networking are being brought to a whole new level. The product also comes with built in eReader functionality of a Kindle as one of its many feature sets.
"We wanted to launch a tablet that did everything, not just a media player or eReader or net book but all those things and much more," stated IN Media C.E.O. Nick Karnik. "Now users have the power of a full computer in a sleek and elegant format."
The Windows 7 Tablet PC had all the full functionality of a PC in an elegant and efficient tablet format and because of the operating system users are not limited to what type of video formats they can view as all are supported including the most popular, Flash.
The product is scheduled for shipment in Q1m 2011 and will roll out in Asia and the U.S. with at a suggested retail price of $399.
About IN Media Corp
IN Media Corp is an integrator of Internet Protocol Television (IPTV) services, products and content for major platform and service providers (e.g. cable, satellite, and Internet providers). IN Media provides a combination of products and services: set-top box hardware and software services, manufacturing of the set-top boxes, library of content and content aggregation for platform providers to implement an all-in-one solution for IPTV services. More information can be found at: http://www.inmediacorp.com.
Certain statements contained in this press release are "forward-looking statements" within the meaning of federal securities laws, including, without limitation, anything relating or referring to future financial results and planned business activities. Such statements are inherently subject to risks and uncertainties, which include, without limitation, those in Company reports filed with the SEC. The Company can give no assurance that such expectations will prove correct. Future events and actual results could differ materially from those statements.
IN Media Corp, Media and Investor Relations Contact:
Contact Person: Tom McGrew
Telephone Number: 760-801-3639
Email Address: tomcgbooks(at)gmail(dot)com
Web site address: http://www.inmediacorp.com
# # #