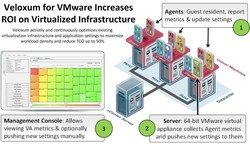 We needed a solution that could interrogate every detail and configuration of our global IT environment and optimize all the settings accordingly, and we needed a truly dynamic solution that would do this constantly, not just once, or once a week.
Scotts Valley, CA (Vocus) December 22, 2010
Veloxum™ Corporation, a performance management company, today announced that Petroleum Pipe Company (PPC) achieved major efficiency increases and cost reductions using Veloxum to optimize its enterprise servers and Citrix Virtual Desktops (VDI) throughout the world. This resulted in major cost savings and significantly increased productivity across PPC's global work force in locations throughout Europe and the Middle East.
When PPC began to dispatch its work force to remote locations, it faced major infrastructure challenges due to unreliable bandwidth that limited employees' ability to deliver and back up critical information supporting PPC's business growth. This was a particularly significant issue in regions such as the Middle East, where remote workers with slow connections challenged the utility of their cloud-based Citrix VDI virtual desktop model. By itself, Citrix VDI did not provide adequate responsiveness to the people on the ground. PPC deployed Wide Area Network (WAN) optimization technology and a smart load balancing technology but still lacked a complete solution, especially for such low bandwidth locations.
PPC then deployed Veloxum across its 5 locations, resulting in a 60% increase in user productivity over Citrix VDI alone and a 25% increase in server utilization. PPC estimates Veloxum provided approximately $900,000 in annual saving in user productivity alone, and approximately $180,000 in CAPEX & OPEX savings on planned storage hardware investment that became unnecessary.
"We needed a solution that could interrogate every detail and configuration of our global IT environment and optimize all the settings accordingly, and we needed a truly dynamic solution that would do this constantly, not just once, or once a week." said Chris Starling, Group IT Manager for Petroleum Pipe Company. "The Veloxum software is a powerful tool which delivered considerable value immediately."
According to Starling, "Remote users no longer have to work through the small hours of the morning to get useable bandwidth. User frustration is alleviated and the management team is satisfied."
"Today, customers like PPC require and demand dramatic performance improvements and tuning-based efficiency savings to support their virtualized organizations' ability to cost-effectively transact the highest level of business," said Kevin Cornell, CEO of Veloxum. ""We are delighted that a major industry company such as PPC has selected Veloxum to realize the full power and capacity of their entire virtual enterprise."
For the complete details on PPC's implementation: Case Study
Active Continuous Optimization (ACO) sets Veloxum apart from other server and application monitoring-only tools
Many organizations have invested heavily in virtualization projects in order to achieve the cost savings presented to them as part of an ROI model. But without continuous tuning of server platforms to the applications they are running, it is difficult to achieve these results. Veloxum actively and continuously tunes server settings to deliver optimum performance and virtual-to-physical densities.
Veloxum's ACO uses patent-pending algorithms to calculate the optimum server configuration settings that improve all aspects of performance. Veloxum then implements and logs these new optimal configurations, and acts as a continuous 'tune-up' service to configure elements automatically without requiring any user intervention or specialist skills.
What this means for the customer is that they can increase guest to host density, running a greater number of VMware instances without increasing physical server capacity. This leads to dramatic cost savings in terms of deferred capital expenditure on new hardware and reduced Total Cost of Ownership (TCO) in the areas of support, maintenance, powering and cooling requirements. Veloxum customers typically see a Return on Investment period of less than 6 months.
Veloxum supports most enterprise platforms, including Linux, AIX, SUN and Windows OS with supplied OS modules, and optimizes popular applications such as Exchange, SharePoint, SQLserver, Lotus Notes and Oracle.
Availability, Pricing and Promotion:
Veloxum for VMWare is available from Veloxum and its authorized resellers. For a free evaluation download and more information on Veloxum for VMware, including feature, function and pricing information, please visit: http://www.veloxum.com.
About Petroleum Pipe Company
Petroleum Pipe Company Ltd (PPC) (http://www.petroleum-pipe.com) is internationally recognized as a leading supplier of pipe to companies in the oil, water and gas industries throughout the world.
About Veloxum
Veloxum's founders started the company with the vision to apply active, continuous optimization to manage complex IT environments for optimum performance and utilization. Veloxum actively and continuously optimizes physical and virtual infrastructure by optimizing operating system and application settings. It leverages the existing systems and infrastructure by tuning the various components within their manufacturer-supported settings. The solution enables IT organizations to maximize performance, increase workload density, and minimize virtualization costs, dramatically reducing CAPEX and OPEX spending.
Customers such as Adecco, Baron Funds, Beeline, CGB Group, Deutsche Bank, the United States Department of Energy, Fortress, and ISI Financial, Maimonides, PPC, and The Washington Post are enjoying significant cost savings with Veloxum. Veloxum http://www.veloxum.com, headquartered in Scotts Valley, California, was founded in September, 2007.
Veloxum, IPTE and ACO are registered trademarks and/or trademarks of Veloxum Corporation in the United States and/or other jurisdictions. All other marks and names mentioned herein may be trademarks of their respective companies.
Media Contact
Jeff Lettes
Global Media Strategy on behalf of Veloxum
jlettes(at)globalmediastrategy(dot)com
twitter: @svnewscomm
http://www.globalmediastrategy.com
###