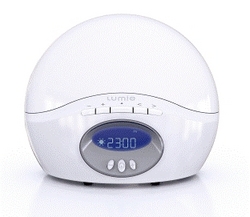 We love our garden birds in the UK and having their song as a wake up call is a great way of bringing the outside in. Songs of familiar birds from your garden are extremely relaxing and a gentle, cheerful and positive way to ease into the day.
(PRWeb UK) December 23, 2010
With snow covering the ground, plummeting temperatures and freezing icy conditions sweeping much of the nation, many could have mistaken it being winter for weeks. However following the shortest day of the year (21 December 2010), we are only a few days into the season.
Caused by the lack of available light and reduction in the number of daylight hours, light therapy expert, Lumie, say winter can be a particularly difficult time of year for around one in six people thought to suffer from the condition.
Known as the milder form of the medical condition Seasonal Affective Disorder (SAD), the winter blues can cause millions to eat and sleep slightly more and dislike the dark mornings and short days.
Dawn simulation is already a well researched and successful form of treatment for winter blues sufferers as not only does it slowly ease someone from sleep by waking them up to a very slow and gradual simulated sunrise, but when used everyday dawn simulation also helps to keep the circadian rhythm (or internal body clock) aligned so that people feel naturally ready for their day ahead and for sleep at night.
According to recent news released from the National Trust, scientists now suggest spending five minutes a day listening to the sound of birdsong can also help beat the winter blues. Lumie believe such results reinforce the importance of using products like Bodyclock Active as not only does it provide a simulated dawn and dusk effect, but it can also be set to play therapeutic sounds including birdsong at the end of the sunrise period.
Gemma Hogg, a spokesperson for RSPB, said: "We love our garden birds in the UK and having their song as a wake up call is a great way of bringing the outside in. Songs of familiar birds from your garden are extremely relaxing and a gentle, cheerful and positive way to ease into the day."
Jonathan Cridland, CEO of Lumie, said: "Lumie first invented the dawn simulator back in 1993 and ever since, our Bodyclock range has grown from strength to strength in design, features and attention to detail. Our Bodyclock lights are now even used by elite athletes at British Swimming, to help them wake-up feeling positively refreshed for early morning training sessions and competitions.
"Through previous research, we've known for a long time that light can drastically improve symptoms of the winter blues and the new research from the National Trust demonstrates even more how products like Bodyclock Active can help lift the mood of millions.
"Those affected by the winter blues should simply try a dawn simulator such as Bodyclock Active as we offer all our customers a 30 day trial. Not only will it wake them up naturally to light, but once the sunrise is fully risen it can also be set to play the therapeutic and relaxing sound of birdsong so that users can squeeze a quick five minute session in before their day fully begins.
"By bringing a bit of the outside inside through dawn simulator products like Bodyclock Active, people can make sure they still have access to important things such as a sunrise and the sound of birdsong no matter what time of the year it is – this will have a profound effect on their overall mood as well as their wellbeing."
Specifically designed not only to brighten up your bedroom, but your day and mood, too - clinical trials reveal using a dawn simulator like Bodyclock Active can provide effective relief to those suffering from sleep problems and mood disorders, like the winter blues.
Simply set the time you need to be awake and chose your sunrise length (15, 20, 30, 45, 60 or 90 minutes). The light inside Bodyclock Active will gradually start to brighten up over your chosen sunrise length to provide you with your own personal sunrise. By the desired wake up time, the light will be at its full brightness and you will have woken up naturally and gently - the way nature intended. Scientific research has also shown that waking up to light every day keeps your circadian rhythm (otherwise known as your internal body clock) in check so you feel refreshed, energised and ready for your day ahead - at the time which suits your lifestyle.
For the deep sleepers amongst us who might need extra reassurance about being woken up, Bodyclock Active can be set with a back-up alarm or a choice of soothing sounds, including birdsong, rooster, waves, white noise and rain – the selected sound will start to play once the light has reached its full brightness.
If you hate winter, as well as waking up to light, new research out from the National Trust also suggests listening to birdsong for five minutes can ease the symptoms of the blues.
Alternatively you might prefer listening to the heavier beats of your favourite morning radio show using the built-in radio or for the hard of hearing, there is an option for the light to flash once full brightness is reached.
After a hectic day in the office, Bodyclock Active can also help you relax and unwind by providing a restful sunset to prepare the body for sleep. Team this up with listening to the relaxing noise of waves gently breaking against the shoreline and you'll be off to the land of nod in no time!
Watch how Lumie Bodyclock Active works here:
If you would like further information, access to scientific research, case studies or comments from academic experts, please do not hesitate to contact the Lumie press office on 01954 780 500 or email lindsay(at)lumie(dot)com
About Lumie:
Cambridge-based Lumie offers over 19 years experience and expertise in light therapy and only light therapy and invented dawn simulator wake-up lights with our Bodyclock range, so that anyone could feel the benefits of waking up to light all year round.
As Europe's leading light therapy specialist, Lumie offers a wide selection of products, including Bodyclock dawn simulators, lightboxes, visors and LED treatments, all of which are certified as a medical device and are available to customers on a 30 day home trial.
Based on scientific research, Lumie has lights for skincare, the treatment of mood and circadian rhythm disorders such as Seasonal Affective Disorder (SAD) and sleep issues, and for the relief of allergies like hay fever.
Working in association with leading experts in Dermatology, Psychiatry and Chronobiology, Lumie has earned the respect of the medical profession by innovating products that are based on new developments in scientific research and clinical trials. Lumie is a massive success in the mainstream health and wellbeing arena and prides itself on providing the highest level of personalised care to customers by offering knowledgeable, friendly advice through its customer care team and via its internet forum, http://www.lumie.com/forum.
###