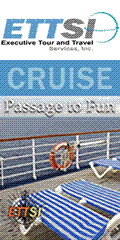 Despite all our advances in communications, there is still nothing like a rep that can call a fraternity brother/sorority sister or close business acquaintance and get an appointment with a company that we want to do business with…
Daytona Beach, Florida (Vocus/PRWEB) December 01, 2010
ETTSI Incentive Premiums, a licensed and bonded seller of travel for more than 18 years and a pioneer in the travel certificates industry, today announced it will be launching a new strategic sales effort in 2011 with the expansion of its nationwide outside sales team.
All indicators seem to be pointing to a turnaround in the economy next year. With economic growth comes more aggressive competition and that's what drives the sales incentives & premiums business. While manufacturers are still resistant to spend heavily on incentives, retailers (ETTSI's traditional customers) will be anxious to offer incentives to motivate their sales team or that will bring customers to their locations and make purchases.
ETTSI's sales efforts have always been most effective through outside representatives who have frequent face to face contact with the decision makers who purchase their products. With companies restructuring, many of these key contacts have changed and ETTSI sees the anticipation of a turnaround as an opportunity to build new relationships with companies that they haven't done business with in the past while shoring up relationships with their current clientele as well.
"The representatives I work with are dynamic individuals who use a number of sources to provide solutions to their clients marketing challenges. These are the kind of people who prefer to conduct their social media on the golf course or over diner rather than through the internet.", boasts Frank Bertalli, President & CEO of ETTSI, "Despite all our advances in communications, there is still nothing like a rep that can call a fraternity brother/sorority sister or close business acquaintance and get an appointment with a company that we want to do business with and I enjoy rewarding my associates handsomely for doing so."
In anticipation of this launch, ETTSI has developed several new and exciting products and increased their sales support staffing to offer the new reps an inside contact to assist them in selecting proven products and designing incentive programs that best fit their customer's needs including in house graphics design for branding of any of ETTSI's 60+ incentive products and travel certificates.
Sales Rep Groups and Professional Independent Sales Representatives with contacts in business segments such as Time Share Sales, Automotive Dealership, Direct Mail Marketing, Home Improvements or other business entities that traditionally use sales incentives in their marketing efforts are encouraged to enquire. For more information about ETTSI and their broad range of Travel Certificates, Incentive Premiums and Employee Rewards, you can contact Frank Bertalli at 1-866-224-9650.
About ETTSI
ETTSI (Executive Tour and Travel Services, Inc.) is registered in the states of Florida, California and Nevada as a Seller of Travel. FL#ST22752, CA#ST2065118-40, NV#2006-0132, offering a full service travel agency as well as many travel and cruise packages in the form of travel certificates. For more than 18 years ETTSI has lead the sales incentives industry with unique programs and products always striving to meet the needs and exceed the expectations of the sales organizations they serve. Through the sale of their certificates, ETTSI provides travel accommodations to 1000's of travelers each year garnering them preferred pricing and preferences with airlines, motels, and many other travel related services. Please visit http://www.ETTSI.com for more information about the company and its products and services.
###