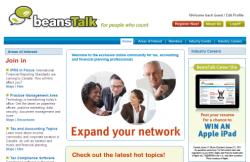 Unlike LinkedIn and Facebook, beansTalk is a custom-designed network for Canada's tax, accounting, financial planning and bookkeeping professionals."
Toronto, Ontario (Vocus/PRWEB) December 02, 2010
"Unlike LinkedIn and Facebook, beansTalk (http://www.beansTalk.ca) is a custom-designed network for Canada's tax, accounting, financial planning and bookkeeping professionals."
Jennifer Allan is talking about beansTalk, a unique new online community. It's sponsored by CCH Canadian, where Ms. Allan is Director, Marketing, Tax, Accounting & Financial Planning.
"The name says it all: 'beansTalk …for those who count.'" She smiles. "Speaking of counting, the site already has over a thousand members!" From the beansTalk homepage, these members can join discussions; see what industry events are upcoming; link to a job-board; and more.
Much of the content is unique, though some is also syndicated blogs and industry news.
Recognized experts blog on hot industry topics. Current discussions include: practice management; tax and accounting news; international financial reporting standards (IFRS); and popular tax compliance softwares, Cantax, Taxprep and ProSystem fx Tax.
"These discussions are where we've started, but the site will progress as more members sign up and participate. The conversations will naturally evolve to reflect the members' interests."
So the content will become that much more relevant for them.
"Exactly. And, although membership is free, the participation and opinions of members are invaluable!" In fact, members are encouraged to offer feedback, "whether that's commenting and rating articles, or posting and answering questions."
These discussions at beansTalk utilise many interactive media, from blogging services to Twitter and Facebook to YouTube. In fact, that's where beansTalk's 'Trends in Accounting' series of videos also resides.
Another important feature is beansTalkCareer (http://www.beansTalkCareer.ca), a robust industry job-board. It's for employers sourcing their next hire and professionals finding their next job.
Working and aspiring professionals are encouraged to join the conversations at beanstalk.ca.
About beansTalk
beansTalk (http://www.beanstalk.ca) is a premier online networking site exclusively for Canadian tax, accounting and financial planning professionals. It's a convenient way to stay connected to the people and information that matters to them. At BeansTalk members can network, share their views, find a new job or a new employee, and stay up-to-date on industry trends and events. The site also provides premium information and informed opinion with articles, blogs, videos and webinars. beansTalk is proudly sponsored by CCH Canadian Limited (http://www.cch.ca/tax).
About CCH Canadian Limited
CCH is Canada's premier provider of authoritative compliance tools, research and practice materials for accounting, legal and business professionals. Having celebrated its 60th anniversary in 2006, CCH Canadian produces software and information products that help customers take command of complex regulatory issues in tax, accounting, law, financial planning and human resources. CCH (http://www.cch.ca) is a Wolters Kluwer business.
Wolters Kluwer is a leading global information services and publishing company. The company provides products and services globally for professionals in the health, tax, accounting, corporate, financial services, legal and regulatory sectors. Wolters Kluwer has annual revenues (2007) of €3.4 billion, maintains operations in over 33 countries across Europe, North America and Asia Pacific and employs approximately 19,544 people worldwide. Wolters Kluwer is headquartered in Alphen aan den Rijn, the Netherlands. For more information, visit http://www.wolterskluwer.com.
# # #