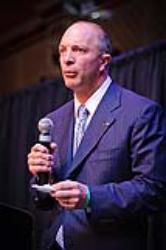 "I am thrilled to accept this honor on behalf of the company. There are so many people to thank who have helped me grow my business from one car to one of the largest in the country" said Alexander
(Vocus/PRWEB) December 03, 2010
RMA Worldwide was selected as the Large Operator of the Year by Limo Digest Magazine on November 9th in Atlantic City. It was a night to remember at the culmination of the annual limousine trade show with an awards dinner and auction. The dinner was attended by almost one thousand operators. The charity auction benefited the Make A Wish Foundation.
The Limo Digest Magazine's annual tradeshow was held November 7th – 10th 2010 at the Taj Mahal Hotel and Casino in Atlantic City. The trade show, which spanned four days, was filled with informative seminars, keynote speeches, and a show floor filled with all the latest vehicles available to the industry. Exhibitors included the coachbuilders who make limousines, insurance companies, trade associations, bus purveyors and many more vendors who service the livery industry.
The Limousine Operator of the Year Award is given in three categories, small, medium and large operators. The threshold for large operator was operating more than 31 vehicles. RMA's Washington, DC area fleet consists of over 100 vehicles. There is an involved application process and prior to the show the field is narrowed down to three finalists in each fleet size group. There are hundreds of applications submitted. The judging criteria included but was not limited to, industry best practices, fleet age and size, chauffeur and reservations training, insurance coverage, operating authority, utilization of technology and much more.
The President and CEO of RMA Worldwide, Robert M. Alexander, gave a short speech upon acceptance of the award. "I am thrilled to accept this honor on behalf of the company. There are so many people to thank who have helped me grow my business from one car to one of the largest in the country" said Alexander. Mr. Alexander was accompanied that night by eight of his senior management staff for the awards ceremony.
RMA held a celebration in honor of the award. On November 20th, 2010 the company invited all of their employees to the Linganore Winery in Mount Airy, MD. The trophy was proudly displayed for all to see. Again, Alexander told his entire staff they were the best in the business.
RMA (http://www.rmalimo.com) is headquartered in Rockville, MD and provides service worldwide and is in their 23rd year of business.
###