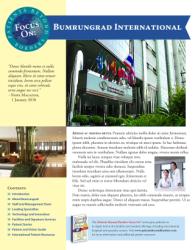 "Patients Beyond Borders is the bible for medical travelers, so it's only natural that we should collaborate on this important resource for international patients who want to make smart and informed healthcare decisions."
Chapel Hill, NC (Vocus/PRWEB) December 08, 2010
Patients Beyond Borders (TM), the best-selling consumer reference guide for medical tourism, is pleased to announce the December 2010 release of FOCUS ON: Bumrungrad International Hospital, profiling the renowned Asian destination that has treated more international patients than any other.
Located in the heart of Bangkok, Thailand, this award-winning healthcare campus boasts many of Thailand's top doctors, including physicians trained at Johns Hopkins, the Cleveland Clinic, Stanford, MD Anderson, and the Mayo Clinic. Over 200 have been US board-certified.
Established in 1980, Bumrungrad's main facility now measures 1 million square feet and houses a 554-bed tertiary-care hospital, advanced imaging department, ISO-certified laboratory, clinical research center, and medical heliport. The hospital offers 30 specialty centers and has the resources and capacity to meet all patient needs on one campus, within days rather than weeks. During the past decade, more than 3 million patients from 190 countries have traveled to Bumrungrad for its combination of medical quality, efficiency, value, and Thai hospitality, making it one of the world's most popular destinations for medical travelers.
"With costs averaging 50–80% less than comparable treatments in the US and with a 90% satisfaction ranking in recent Gallup polls, it is easy to see why so many healthcare consumers are making the trek to Thailand," says Josef Woodman, author of Patients Beyond Borders. "I have personally been a patient at Bumrungrad International, and the experience is comparable to the best healthcare and service to be found in North America or Europe."
Bumrungrad was the first hospital in Asia to receive Joint Commission International (JCI) accreditation (in 2002) and was reaccredited in 2005 and 2008. International medical coordinators, multilingual customer service staff, airport reception services, and a variety of ethnic food options are among the innovations Bumrungrad offers the international patient.
Patients Beyond Borders FOCUS ON: Bumrungrad International will provide healthcare consumers worldwide in-depth information on the hospital's top specialties and doctors, achievements, accreditation, signature services, patient case studies, and travel information.
"We are gratified to be partnering with Patients Beyond Borders to produce this new digital-format publication," says Kenneth Mays, senior director of Hospital Marketing and Business Development for Bumrungrad International. "Patients Beyond Borders is the bible for medical travelers, so it's only natural that we should collaborate on this important resource for international patients who want to make smart and informed healthcare decisions."
Produced by the research and editorial team of Patients Beyond Borders, the FOCUS ON: series features a 32-page, full-color digital brochure and eBook highlighting the world's leading, internationally accredited hospitals and specialty centers in a fully searchable, dynamic, consumer-friendly format. Published under the Patients Beyond Borders brand, the series offers healthcare consumers detailed information on specialties, procedures, costs, and travel planning from the most recognized, trusted information source in international medical travel.
FOCUS ON: Bumrungrad International will be accessible from a variety of sources, including the Patients Beyond Borders website, Bumrungrad's website, Kindle, GoogleEditions and other eBook readers, iPhone and other mobile devices, medical, business, and reference libraries worldwide, and all popular social networks.
About Bumrungrad International Hospital
Bumrungrad International (pronounced Bahm-roong-RAHT, meaning "care for the people") is an internationally accredited, multispecialty hospital located in Bangkok, Thailand. It is the largest private medical center in Southeast Asia, serving over 300 inpatients and 3,000 outpatients per day. Bumrungrad offers state-of-the-art diagnostic, therapeutic, and intensive care facilities on a single, modern campus.
For more information on Bumrungrad International, please contact:
Lasa Sophonpanich, International Marketing Executive
33 Sukhumvit Road 3, Wattana
Bangkok, THAILAND 10110
Tel: +662 667.1000
Email: lasa(at)bumrungrad(dot)com
Web: http://www.bumrungrad.com
About Healthy Travel Media
Healthy Travel Media, an independent imprint based in Chapel Hill, NC, publishes books, eBooks, video, online, mobile, and social networking information and applications on medical, health, and wellness travel. Its flagship international title, Patients Beyond Borders, now in its Second Edition, is the world's leading consumer reference guide for medical tourism and is filled with authoritative, accessible advice. Country editions, city editions, and individual facility editions help healthcare consumers make informed choices toward successful medical travel.
For more information or media queries, please contact:
Judy Orchard, communications manager
Tel: +1 919 545.0668
Email: jorchard(at)patientsbeyondborders(dot)com
Web: http://www.patientsbeyondborders.com
Note: Qualified members of the media are invited to request a review copy of FOCUS ON: Bumrungrad International, Patients Beyond Borders: Second Edition, or any other title from our growing library. Please contact jorchard(at)patientsbeyondborders(dot)com.
# # #