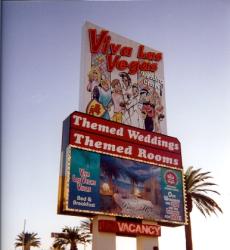 It was the most overwhelming thing we have ever attempted, and it was a huge success.
Las Vegas, NV (Vocus/PRWEB) December 07, 2010
On 10/10/2010 the Viva Las Vegas Wedding Chapel in Las Vegas, NV married 206 happy couples in less than 36 hours; a record number for the famous chapel. Owner Ron Decar attributes their latest success to good planning and great staff. "It was the most overwhelming thing we have ever attempted, and it was a huge success," said Decar. Voted "Best Chapel in Vegas" for the seventh year in a row, Viva Las Vegas is already preparing for an event of similar magnitude on 11/11/2011. Zeta Tri dates happen only once in a lifetime and it is therefore an extra special day for couples who tie the knot on a Zeta Tri.
The Las Vegas Wedding Chapel offers a plethora of ceremonial options which range from a traditional ceremony in a cozy Adobe-style chapel to a breathtaking sunset wedding in the Nevada desert. The Chapel prides itself in doing all the leg-work involved in planning a wedding, in order for couples to simply show up and join their guests in what will soon prove to be the most memorable day of their lives. In addition to luxurious traditional wedding packages, the Chapel offers themed wedding for those die-hard Elvis fans. Viva Las Vegas staff treats each wedding like a production, "and we are good at putting on a production," Decar said. Each ceremony is followed by the couples choice of an intimate (10+ guests), or larger (100+ guests) reception. Each reception includes delectable menu choices, flowers, a reception disk jockey, and stylish table settings. After the festivities, the newlyweds may retreat to the luxury and comfort of an award-winning hotel suite. Chapel packages also include honeymoon trips to Puerto Vallarta, Mexico; groom tuxedo rentals; wedding rehearsals and bride's bouquets.
###