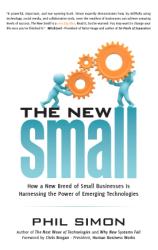 A new breed of small businesses is using emerging technologies to do things simply impossible even ten years ago
(Vocus/PRWEB) December 08, 2010
A small seafood restaurant attracts new customers with virtually no marketing budget. A four-person iPad case manufacturer generates more than one million dollars in revenue in four months with only four employees. A voiceover company is able to connect thousands of artists with opportunities, all without expensive hardware and software. A law firm increases access to key information while dramatically reducing technology-related costs and risks. And these four companies are hardly unique.
"A new breed of small businesses is using emerging technologies to do things simply impossible even ten years ago," says Phil Simon, author of "The New Small: How a New Breed of Small Businesses Is Harnessing the Power of Emerging Technologies." "No longer is it a disadvantage to be small," Simon continues. "In fact, today it's actually an advantage."
The book highlights how a group of small companies is creatively and intelligently using technology to reach new customers, reduce costs, increase internal collaboration and communication, and create flexible work environments. "It's more of a management text than a technology one," Simon says. "I profile eleven different companies doing fascinating things with respect to a number of powerful technologies."
Rife with profiles from a wide variety of industries, "The New Small" offers pragmatic advice and lessons for companies regarding social media, cloud computing, mobility, and other key technologies. It's a must-read for small business owners, those thinking about starting their own shops, and those who work for larger outfits intent on capturing the agility and spirit of a group of dynamic small companies.
Praise
"A powerful, important, and eye-opening book. Simon expertly demonstrates how, by skillfully using technology, social media, and collaborative tools, even the smallest of businesses can achieve amazing levels of success. 'The New Small' is a very big idea. Read it, but be warned: You may want to change your life once you have finished it."
--Mitch Joel, President, author of "Six Pixels of Separation"
"We have known for a long time that small is the new big, to quote Seth Godin, but a piece has been missing--specifically the piece that explains how technology has been accelerating the trend and how companies can harness technology to take advantage of it. In 'The New Small', Phil Simon does a masterful job of filling that void. I heartily recommend it."
--Bo Burlingham, Editor-at-large, "Inc. Magazine" and author of "Small Giants: Companies That Choose to Be Great Instead of Big"
"'The New Small' is a veritable treasure chest of management tips and technologies. Simon's storytelling rivals Malcolm Gladwell and his knowledge of technology rivals Chris Anderson. A must-read."
--Paul Spiegelman, Author, "Why is Everyone Smiling?"
About the Author
Phil Simon is the author of the "Why New Systems Fail" (Cengage, 2010) and "The Next Wave of Technologies" (John Wiley & Sons, 2010). Simon is a public speaker, writer, and consultant, focusing on how organizations utilize technology.
He is a graduate of the School of Industrial and Labor Relations at Cornell University (MILR) and of Carnegie Mellon (B.S., Policy and Management). He lives in Northern New Jersey, USA.
Simon is available for interviews. Please visit TheNewSmall.com for more information.
The New Small is available for purchase via Amazon.com and other major bookstores. The book is published by Motion Publishing.
ISBN: 0982930232
Media copies are available upon request.
News release courtesy of Press Release Distribution.
###