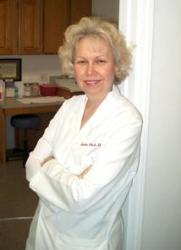 Prescott, Arizona (Vocus/PRWEB) December 21, 2010
Robin Fleck, MD, founder of Vein Specialties, Southwest Skin and Cancer Institute and Body Oasis Laser Cosmetic Solutions in Prescott, Arizona, is double-board certified in dermatology and internal medicine. Dr. Fleck has volunteered for many years throughout Arizona. In addition to running a successful dermatology practice, varicose vein clinic and medical spa, Dr. Fleck donates countless hours to fundraising, educational seminars and free skin cancer screening. She lends her support to many charitable organizations, which include the Lions and Rotary Clubs, community health fairs, Prescott Fine Arts Association, Prescott Symphony Association, D.E.A.R. for special needs children, and Trauma Intervention Program.
Dr. Fleck serves year-round and is active in her community, giving free skin cancer screenings at Tim's Toyota Annual Health Fair, Peeple's Valley Health Fair and others. Dr. Fleck volunteers her time during these events to educate, interact and meet folks who are concerned about vein disorders, skin cancer and melanoma or premature aging. The doctor also comes well-equipped to all of these events with her staff members who are outgoing and educated in their fields.
"Patients trust me because they know my results, they know that I play an active role in professional societies, they know I value the wellbeing of my community, and that I am always taking advantage of new opportunities to educate my patients and the public," Dr. Fleck notes. "In these ways I can stay in touch with the latest dermatology, skin cancer and varicose vein treatments while also showing my patients that each and every one of them is a valued and respected part of my practice."
Dr. Fleck is proud to recognize other people who prioritize volunteerism in their lives. On November 13, 2010, She was one of the official sponsors of the Prescott Fine Arts Association fashion show, sponsoring tables at the event along with generous donations of prizes, gift certificates and products from all three of Dr. Fleck's practices.
Additionally, Dr. Fleck has given educational talks throughout Yavapai County. Several Wells Fargo Bank offices in Prescott benefited from Dr. Fleck's knowledge via a power point presentation on varicose veins and discussion of treatment options, signs, symptoms and predisposing factors, as well as free consultations on bank employee's veins. Costco in Prescott Valley was also another hot spot for Dr. Fleck this fall when she and her staff spent a day providing free skin cancer and vein consultations to Costco employees. In May, Dr. Fleck helped underwrite the Costco Childrens Miracle Network event which raised over $53,000 for the Phoenix Children's Hospital.
"Given the current economic climate, we know that times are very tough right now. We see this as an opportunity to give back to communities by educating and volunteering our time and knowledge to people" states Betsy McKaig, RN and Vein Specialties administrator. "We know that without the support of our communities, we wouldn't have the opportunity to succeed and grow in today's market, and right now there couldn't be a better time to lend that helping hand."
In 2010 Dr. Fleck was a featured speaker at the Damsel's In De-Stress Getaway in Prescott, where she addressed the attendees on the latest antiaging treatments including fractional laser resurfacing for wrinkles and age spots, cosmetic fillers for a liquid facelift and Botox injections for frown lines. In addition, she gave a presentation to health professionals at the Hassayampa Inn to acquaint health care providers with up-to-date information regarding venous insufficiency and varicose vein disease and its treatment with endovenous laser ablation and ultrasound-guided foam sclerotherapy.
"In this environment of ever-expanding options, choosing a vein specialist or cosmetic dermatologist you can trust to help you select a treatment and to perform it properly is of the utmost importance. Each of our patients receives personal attention and individual treatment plans that are developed especially for them. Only then will they achieve optimal results," notes Jessica Peters, Certified Medical Assistant for Southwest Skin and Cancer Institute. "Dr. Fleck has many years of experience as a laser specialist and cosmetic surgeon, so patients count on her for a professional assessment of what will work best for them."
Dr. Fleck's practices offer unique services and each specializes in complete skin care and vein care from prevention to correction of skin and vein disorders. Treatments include those for skin cancer, melanoma, rashes, psoriasis, and eczema, as well as varicose veins and spider veins. Cosmetic procedures offered include Botox, Dysport, Juvederm, Restylane, Perlane, Radiesse and Latisse. Laser procedures offered are Nd-YAG neck tightening and facial vein removal, Active FX wrinkle and acne scar reduction and eyelid lift, tattoo removal, laser hair removal and photofacials. The medical staff at Prescott Vein Specialties, Southwest Skin & Cancer Institute, and Body Oasis Laser Cosmetic Solutions happily offer free consultations before patients undergo procedures suited for their specific needs.
Vein specialist and cosmetic dermatologist, Robin Fleck, MD is a double-board certified dermatologist and internist, recognized by the American Board of Dermatology and the American Board of Internal Medicine. She is founder and Medical Director of Vein Specialties in Prescott, Arizona and is a fellow of the American Society of Laser Medicine and Surgery and the American Venous Forum. Dr. Fleck is also the founder of Southwest Skin & Cancer Institute and Body Oasis Laser Cosmetic Solutions in Prescott, Arizona.
To learn more about Vein Specialties and treatment options for varicose veins and spider veins, please visit Prescott Veins or call (928) 778-0808.
# # #