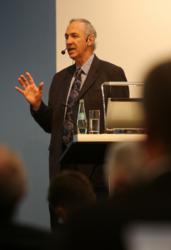 We try to 'walk our talk' and this certification attests to our success to date.
Tucson, Arizona (Vocus/PRWEB) December 27, 2010
Yudelson Associates, a leading international green building and sustainability consulting firm, announced today that the City of Tucson, Arizona, has given it the first Green Business Certification for a consulting business in the SOHO space. Issued by the Tucson Office of Conservation and Sustainable Development (http://www.tucsonaz.gov/ocsd/), the certification is based on a review of energy use, water conservation, waste recycling, travel and carbon offsets, re-cycling and pollution prevention.
Jerry Yudelson, PE, MS, MBA, LEED AP, Principal and Owner of Yudelson Associates said, "We help our clients do strategic planning so that they can be more sustainable, and we've endeavored to 'walk our talk' as well. We're pleased that the City of Tucson has recognized these efforts with its prestigious Green Business Certification."
The green building consultant's office undertook energy and water audits in 2010. The firm has installed a total of 3.0-KW of photovoltaics and a solar water heater, instituted rainwater harvesting and purchased a hybrid Honda Civic for business travel. Future plans include installing a gray water recovery system for outdoor irrigation and adding 3.0-KW of photovoltaic system capacity.
About Yudelson Associates and Jerry Yudelson.
Yudelson Associates is a leading international firm in sustainability and green building consulting and certification services. The founder, Jerry Yudelson, is widely acknowledged as one of the nation's leading sustainability and green building authorities. He is the author of 12 leading-edge green building books, including more recently "Dry Run: Preventing the Next Urban Water Crisis", "Green Building Trends: Europe", "Greening Existing Buildings" and "Sustainable Retail Development: Strategies for Success". He served for two years as "Research Scholar for Retail Real Estate Sustainability" for the International Council of Shopping Centers, a 70,000-member international trade organization. He is a frequent keynote speaker at leading national and international green building and sustainability conferences. He chaired the U.S. green building industry's largest annual show, Greenbuild, for six years, from 2004 through 2009.
For more information please contact Jerry Yudelson, 520-207-9759, info(at)greenbuildconsult(dot)com or visit http://www.greenbuildconsult.com.
###