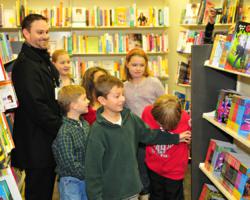 We pulled out all stops to open this store in time for Christmas, and seeing these excited kids is worth all of the effort that was made during the past few weeks.
Dalton, GA (Vocus/PRWEB) December 22, 2010
All Charlie McClurg wanted was a bookstore in his hometown of Dalton, Ga. On Saturday, December 18, his wish came true when Books-A-Million opened a new store at Walnut Square Mall, a CBL & Associates property, after receiving more than 500 letters from Charlie and his classmates.
Companies are often the subjects of letter-writing campaigns, but it's unusual when the authors are elementary students who are desperate to read new books. The letters struck a chord with Books-A-Million's Chairman and CEO Clyde B. Anderson, who swiftly added Dalton, Georgia to his radar for a potential Books-A-Million location.
A Simple Wish to Read
Charlie got the idea to write a letter to Books-A-Million, the nation's third-largest book chain, after his parents told him one night they didn't have time to drive to the store's nearest location 30 miles away. His mom, Jody, told his third-grade teacher Debbie Reynolds about his plan. Reynolds moved up her persuasive writing lesson and encouraged her students to write letters to the CEO of Books-A-Million. By Thanksgiving, about 500 letters written by students in the Dalton Public School system landed on Anderson's desk, begging him to open a Books-A-Million store at the local Walnut Square Mall.
On December 3rd, Anderson made a surprise appearance in Reynold's classroom and announced that a Books-A-Million store would be opening, hopefully in time for the holidays. Anderson sealed his promise by giving each child a $25 gift card to the new store.
The excitement grew even more when Santa Claus and Brandy Christian, General Manager of Walnut Square Mall, visited Reynold's class on Friday, December 17, offering each child a $25 CBL Select Gift Card and matched the total amount in a $500 CBL Select Gift Card for Reynolds to buy new books and supplies for her classroom and Westwood Elementary School's library.
Charlie and Classmates Open New Store
At 8 a.m. on Saturday, December 18th, Charlie and several of his classmates stood behind a big red ribbon. Holding giant scissors nearly as big as his eight-year-old body, Charlie snipped the ribbon and hastily ran into the 5,000-square-foot store with his classmates, eager to begin their shopping spree.
"We pulled out all stops to open this store in time for Christmas, and seeing these excited kids is worth all of the effort that was made during the past few weeks," said Howard Grody, Senior Vice President of Leasing with CBL & Associates Properties, Inc. "It normally takes months and often up to a year to open a new store, and our entire team was so committed to making Charlie's wish come true that we worked non-stop with Books-A-Million, which fast-tracked it's own processes, to open this store so quickly. Only through the close relationship we share with Books-A-Million could this have been pulled off in record time."
As the kids scurried through the aisles deciding what books to buy, Charlie could only say one thing, "I can't believe they really listened to me and our wish came true!"
Even more important, Charlie and his friends learned a valuable lesson. "I hope the kids realize that no matter how big or small you are, you can make a real difference," said Dana Katterjohn, Regional Marketing Director for CBL & Associates Properties, Inc. "Sometimes all it takes is some determination to make a Christmas wish come true."
About Books-A-Million
Books-A-Million is one of the nation's leading book retailers and sells on the Internet at http://www.booksamillion.com. The Company presently operates 232 stores in 23 states and the District of Columbia. The Company operates large superstores under the names Books-A-Million and Books & Co. and traditional bookstores operating under the names Bookland and Books-A-Million. For more information, visit the Company's website at http://www.booksamillioninc.com.
About CBL & Associates Properties, Inc.
CBL is one of the largest and most active owners and developers of malls and shopping centers in the United States. CBL owns, holds interests in or manages 159 properties, including 84 regional malls/open-air centers. The properties are located in 28 states and total 85.6 million square feet including 2.8 million square feet of non-owned shopping centers managed for third parties. Headquartered in Chattanooga, TN, CBL has regional offices in Boston (Waltham), MA, Dallas (Irving), TX, and St. Louis, MO. Additional information can be found at cblproperties.com.
About Walnut Square Mall
Owned and managed by CBL & Associates Properties, Inc. of Chattanooga, Tennessee, Walnut Square Mall features more than 75 great specialty shops and is anchored by Belk, Sears, JC Penney and an all-new 12-screen Carmike Cinemas, featuring stadium seating. Walnut Square Mall is conveniently located at the intersection of East Walnut Avenue and Airport Road. For additional information, please visit the mall website at WalnutSquareMall.com.
Media Contact:
Jennifer Cardwell
CBL & Associates Properties
Jennifer_Cardwell(at)CBLProperties(dot)com
(615)483-8072
###