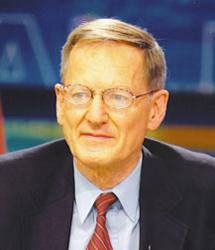 Creativity is what matters in economics. It is what makes economies grow.
(Vocus/PRWEB) December 23, 2010
George Gilder, venture capitalist and bestselling author of Wealth & Poverty, will be featured on Total Career Success, an Internet show on VoiceAmerica Talk Radio Network, at 11 a.m. Central on Monday, December 27. The show is designed to inform and encourage listeners to achieve their career goals by featuring experts and business leaders to provide job search assistance and career advancement. George Gilder's 1981 best-seller Wealth & Poverty made the moral case for capitalism to millions of Americans, changing the national debate and helping to pave the way for the Reagan era. In his latest book, The Israel Test, he makes the case for Israel's importance to America and the world for the capitalistic values we share in common. He shares insights and encouragement on how to get the economy growing again and creating jobs.
Gilder discusses practical solutions to the economy and job growth including:

How meeting customer needs enables businesses to succeed
Essential need for creative entrepreneurs to drive job growth
Importance of marriage and family to cultural vitality
Underlying importance of information over matter for creation
Danger of debt to economic growth
Providing specific examples and historical perspective, Gilder debunks the fallacies of socialism and liberalism.
George Gilder declares, "Creativity is what matters in economics. It is what makes economies grow. The interest rate is the predictable yield, but profit is the unexpected variable yield from an investment. Entrepreneurs create new things, and whether they succeed or not is dependent on the willingness of other producers to exchange their production for the output of the entrepreneurs."
Gilder added, "If laws are multiplying and changing all the time that stifles the kind of creative activity that can overcome our US debt predicament."
Show co-host Sheryl Dawson shared, "George Gilder presents a cogent argument for the importance of capitalism and freedom to get the economic vitality we seek and need to create jobs."
Dawson added, "George tells it like it is. When it comes to money, technology, and economic common sense, no one makes more sense!"
Co-host Ken Dawson added, "The historical record speaks loudly that expanding government and interference in the markets reduces economic growth. While the US moves towards socialism, Europe, China and developing countries are jumping on the capitalist band wagon."
The show will air live at 11 a.m. - noon Central on December 27, 2010. To listen, please visit Voiceamerica.com and search for Total Career Success. The archived show will be available for replay or download at the Total Career Success website, or from iTunes http://www.itunes.com/podcast?id=311541702
About George Gilder, Venture Capitalist and Author
George Gilder is author of fifteen books, including the international best-seller Wealth & Poverty, voted by National Review as one of the most important works of the twentieth century, and Microcosm, selected by Wired as the second most important technology book of the era. He is contributing writer for Forbes and Wired, and a practicing venture capitalist. Chairman of George Gilder Fund Management, LLC and host of the Gilder Telecosm Forum, he is also a Senior Fellow at Discovery Institute where he directs Discovery's program on high technology and public policy. Born in 1939 in New York City, Mr. Gilder attended Exeter Academy and Harvard University. In the 1970s, as an independent researcher and writer, Mr. Gilder began an excursion into the causes of poverty and wealth, which led to his best-selling Wealth and Poverty (1981). Mr. Gilder pioneered the formulation of supply-side economics and in the 1980s he consulted leaders of America's high technology businesses. According to a study of presidential speeches, Mr. Gilder was President Reagan's most frequently quoted living author. In 1986, President Reagan gave George Gilder the White House Award for Entrepreneurial Excellence. In 1996 Gilder was made a Fellow of the International Engineering Consortium. In his best-selling work, Microcosm (1989), he explored the quantum roots of the new electronic technologies. A subsequent book, Life After Television, was a prophecy of the future of computers and telecommunications and a prelude to his book on the future of telecommunications, Telecosm (2000). In The Silicon Eye (2005) Gilder shares his insider knowledge of Silicon Valley and illustrates how the unpredictable mix of genius, drive, and luck that can turn a startup into a Fortune 500 company. Mr. Gilder hosts the web's premier technology investment discussion forum, the Gilder Telecosm Forum, and co-hosts with Steve Forbes the annual Gilder/Forbes Telecosm Conference, both of which offer elite analysis of ascending and disruptive technologies affecting management and investment decisions of investors, executives, engineers and entrepreneurs. Mr. Gilder lives in Tyringham, Massachusetts. For more information visit gildertech.com
About Total Career Success
Total Career Success is broadcast on VoiceAmerica, the world leader in Internet Talk Radio, and syndicated on World Talk Radio; the show aims to engage listeners in new ways of thinking about their potential, their goals, and their future. The show hosts are Ken and Sheryl Dawson, principals of Total Career Success, Inc. and authors of Job Search: The Total System, 3rd edition. They have served corporations in outplacement and career development as well as talent management optimization for 30 years in their consulting firm Dawson Consulting Group. The show presents guests who are experts in their fields to share the lessons they have learned in succeeding in their various areas of excellence and to discuss tips about a broad range of career advancement issues, from specific career opportunities, to industries and workplace changes, to financial and advancement considerations. For more information, visit totalcareersuccess.com and dawsonconsultinggroup.com
# # #