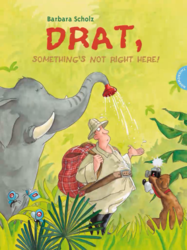 THE App For All Adventurous Puzzlers!
(Vocus/PRWEB) December 23, 2010
The Hullabaloo is a very shy and rare animal, that supposedly lives on a small, unknown island. Professor Twostone and his loyal dog, Albert, set off for a secret expedition to get proof of the Hullabaloo's existence.
Noone has ever taken a picture of the strange creature – will Professor Twostone and Albert be successful? On their quest the two friends end up in the most bizarre situations and discover things that just don't fit into the picture.
Join the Professor and Albert on their hilarious search through the amazing and sometimes confusing jungle world and help them to find all the mistakes!
Wonderful ambient sounds transport you into the crazy world of "Drat!" and help making the search even more exciting. Multifaceted illustrations and detailed animation suited to the theme heighten the level of fun, and a short-cut function helps to sneak a peek if one really gets stuck. A simple shake of the iPad undoes every search while a congenial voice guides throughout the story. The extensive task menu makes it comfortably easy to switch between the languages English and German, and select between various sounds.
This exclusive App encourages the perceptive and cognitive capability of children, and tickles their coordinative aptitude.
"Drat!" is THE App for all puzzlers and gamers. Success guaranteed!
Available on the AppStore now - for $9,99 only.
-----------
zuuka! GmbH
zuuka! has been acting as strong and reliable partner of publishing houses for many years and brought various books and characters to life by using its global audio network. zuuka! offers full-service in-house production of audio books, soundscapes, musicals, film scores and voice-over recordings in more than 40 languages. zuuka! is a leader in consulting, design and programming for the iPad with a strong focus on the children's sector.
Susanne and Dirk Busshart, the founders of zuuka! are married and have two kids: Simon (10) and Jacob (8).
actionboox by zuuka!