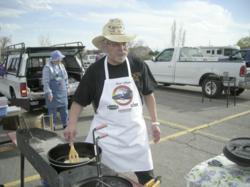 We have already scheduled two world champions for Mesquite.
Mesquite, NV (Vocus/PRWEB) December 30, 2010
Omar Alvarez has a good understanding of Dutch Oven competition considering that he's a 2008 World Champion. Serving as a co-promoter for the inaugural Mesquite Open Dutch Oven Cookoff Jan. 7-8 at the CasaBlanca, Alvarez is helping pave the way for even bigger things for the city situated about 80 miles north of Las Vegas.
The culinary extravaganza boasting a huge $5,000 purse is attracting teams from Arizona, California, Utah, Idaho and Nevada. The event may have as many as 30 teams.
"We have already scheduled two world champions to compete for Mesquite," said the energetic 67-year-old Alvarez, who lives in Burley, Ida. between Pocatello and Twin Falls. "We have been working on this for almost a year and a half."
The hard work has paid off.
"We found the correct site and the right people," said Alvarez, who also orchestrates another big Dutch Oven event at the Burley County Fair.
Alvarez is working with Arlie Bragg, whose Smokin' in Mesquite BBQ Championship attracts teams to the CasaBlanca each Labor Day Weekend. Bragg is nationally-recognized for bringing together the top competitors of both barbeque and Dutch Oven events.
As has been the case with every promotion presented at the CasaBlanca, the Mesquite Open Dutch Oven Cookoff will turn the parking lot into a sea of color with mouth watering aromas of bread, main course offerings and dessert.
As usual, the Dutch Oven event will be free to the public.
"Dutch Oven cooking has really come up in the last few years as a sporting event," said Alvarez. "You can only use charcoal briquettes as your main heating source, so there is a special challenge to competing.
"In the outdoors, you never know what the weather is going to present. There are so many variables. When it's a nice 70-degree day, it's wonderful, but you don't get many days like that. The weather affects the burn time of your charcoal briquettes, so you have to be careful."
Alvarez and Dian Mayfield combined to win the International Dutch Oven Society World Championship in March 2008 in Sandy, Utah. Mayfield is among the many competitors at the Mesquite Open Dutch Oven Cookoff.
In a continued effort to attract special events to Mesquite, the team of Black Gaming is not letting up at all considering future events like Mesquite Motor Mania Jan. 14-16; the Smokin' Big Chili Challenge Jan. 16 and the Golf Fore Life golf tournament also set for Jan. 16.
Further information regarding Black Gaming can be found at http://www.casablancaresort.com.
Further information regarding the Mesquite Open Dutch Oven Cookoff can be found by calling Christian Adderson, sporting events manager of the CasaBlanca at 702-346-7529, ext. 15, email him at cadderson(at)blackgaming(dot)com; Bragg at 615-758-8749 or email him at @arlieque(at)comcast(dot)com. Teams can still sign up through the first week of January.
###