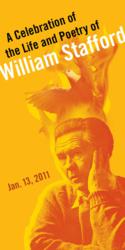 Stafford is an exemplar poetic guide for us. So much of his life and ethos overlaps with the historic rootedness that we have at this university.
Newberg, OR (Vocus/PRWEB) December 30, 2010
George Fox University will host Oregon's current and former poet laureates for "A Celebration of the Life and Poetry of William Stafford" event on Thursday, Jan. 13, on the university's Newberg, Ore., campus. The public is invited to attend any or all sessions free of charge.
Oregon's poet laureate, Paulann Peterson, will join Lawson Inada, Oregon's poet laureate from 2006 to 2010, at an event to celebrate the January birthday of Stafford, Oregon's most famous poet and one of America's most important 20th century poets. The all-day event will include documentaries about Stafford; poetry readings of students' and Stafford's compositions; and breakout sessions with Peterson, Inada and Haydn Reiss, a film producer whose documentary about Stafford, "Every War Has Two Losers," will be shown.
Events will be held in various venues on the George Fox campus. The day ties into a series of events honoring Stafford during the month, as several libraries, bookstores, college campuses and coffee houses celebrate Stafford, whose life and works emphasize the virtues of peace and truth.
The George Fox celebration is being co-sponsored by the university's Center for Peace and Justice and the Friends of William Stafford. The Friends of William Stafford organization reports 55 Stafford poetry readings will be held in January in cities throughout the United States and the world.
"The Center for Peace and Justice is honored to participate in this celebration of Stafford and his work," said Clint Baldwin, center director. "When Dennis Schmidling, board chair of Friends of William Stafford, approached us with Reiss' soon-to-be-released documentary on Stafford and the idea of hosting at George Fox, I felt that the timing could not have been better. Stafford is an exemplar poetic guide for us. So much of his life and ethos overlaps with the historic rootedness that we have at this university in Quaker commitments to peace, justice and seeing and celebrating 'that of God in everyone.'"
Also as part of the event, longtime faculty member and poet Ed Higgins, a professor in the school's English major, will be honored as he transitions to emeritus status. "Hosting this event now is a beautiful way to honor Ed through reaffirming the university's recognition that poetry plays a key role in expanding our imagination, reminding us to see beyond the surface and focusing our convictions into actions."
Stafford's poetry is replete with themes of peace, nature, place, compassion and truth. A conscientious objector during World War II, he spent the war years in civilian public service camps – an experience that ultimately inspired his masters thesis, "Down In My Heart." He was later appointed the nation's 20th poet laureate and poet laureate of Oregon. He died in 1993.
The celebration event at George Fox begins at 10 a.m. with the 60-minute documentary "A Literary Friendship," followed by a Q&A session with film producer Reiss and Friends of William Stafford Board Chair Schmidling. The afternoon schedule includes poetry readings; the breakout sessions with Reiss, Inada and Petersen; and "Orations on the Poetic" with Petersen and Inada.
In the evening, Reiss' "Every War Has Two Losers" film will be shown from 6:30 to 7:40 p.m., followed by a student poetry competition at 7:40 p.m. and Stafford celebration readings from 8:30 to 10 p.m. A noon lunch session with poetry readings will be held on campus, and dinner will be available both on campus and in the local community.
The event schedule and biographies on each of the speakers are available at peaceandjustice.georgefox.edu. More information also is available by calling 503-554-2685.
George Fox University is ranked by Forbes as the top Christian college in the Pacific Northwest and among the top three Christian colleges in the country. George Fox is the only Christian university in the Pacific Northwest classified by U.S. News & World Report as a first tier national university. More than 3,400 students attend classes on the university's campus in Newberg, Ore., and at teaching centers in Portland, Salem, and Redmond, Ore., and Boise, Idaho. George Fox offers bachelor's degrees in more than 40 majors, degree-completion programs for working adults, five seminary degrees, and 11 master's and doctoral degrees.
Contact:
Clint Baldwin
Center for Peace and Justice
503-554-2685
###