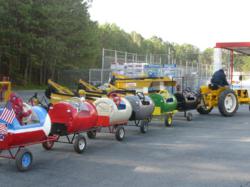 Calhoun, GA (Vocus/PRWEB) December 31, 2010
Gordon County Antique Engine and Tractor Club, GCAEATC, has provided tractor and engine displays and rides for many events, non-profit orginizations, schools, store openings, and the like since its founding in 2007.
The GCAEATC in conjunction with Tractor Supply Company will be hosting an Antique Tractor and Engine display to celebrate the grand opening of the new Tractor Supply retail store in Dalton, Georgia on Saturday, Feb. 19, 2011 at the Gordon County Fairground, located on Liberty Road off of Highway 53 in Calhoun Georgia. The Gordon County Antique Engine and Tractor Club will be displaying and running antique engines and antique tractors.
There will be a selection of historic and antique tractors on display, from a wide variety of manufacturers including John Deere, Farmall, Ford, Allis Chalmers, and many others going back as far as the early 1930's.
Always a hit among families, rides will be available for children on a custom built wagon train pulled by a 1936 John Deere Model A tractor. History buffs will appreciate the antique stationary engines will also be on display, with many of them running.
Memorabilia and souvenirs as well as refreshments and food will be on sale so come and have a great day and experience history. Nostalgia is hot and antique engines and antique tractors are a perfect fit for the afternoon.
The club has participated in these live antique tractor and antique engine demonstrations many times, each with a very positive public response. The Gordon County Antique Engine and Tractor Club is located in Calhoun, Georgia, just south of Dalton, Georgia and meets every second Tuesday at the Chuckwagon Restaurant, located at 1446 Hwy 41 N., Calhoun, Ga. at Interstate 75 exit 318. Dinner begins at 6 p.m. and the monthly meeting begins at 7 p.m.
Later in the year, the Gordon County Antique Engine and Tractor Club will participate in the Peach State Antique Engine and Tractor Show and Tractor Pull, September 16-17, 2011 at the Murray County Saddle Club, Hwy 42 E, Chatsworth, Ga. And will have its Annual Show on October 14-15, 2011 at the Gordon County Fairgrounds. For a complete listing of all upcoming tractor shows, please visit their website.
The club is available for functions large and small. For further information, including photographs from past events, please visit the club's web site: http://www.gcaeatc.com or contact Kim King at 706-346-1690.
###