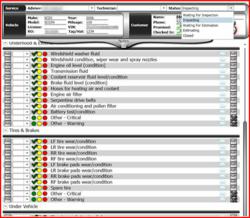 This is truly the solution we have been waiting for
(PRWEB) March 03, 2010
Glendora, CA (PRWEB) March 3, 2010 -- MOC1 Solutions ("MOC1®") continues to exceed expectations with the release of their Technician multi-point inspection program, TechCheck™, at the 2010 NADA annual convention in Orlando, Florida.
NADA attendees were impressed with not only the functionality of the software, but also its affordable price tag.
TechCheck™, an interactive Fixed Operations selling and tracking system, is a complimentary technology to its popular WSA® or Wireless Service Advisor® product. The combination of these two cutting-edge technologies positions MOC1® as virtually the only provider of complete and integrated front and back-end Selling Solutions for Fixed Operations Departments today.
The fully-functional electronic multi-point and additional service request management system offers a long list of features, including:

Management of all vehicles throughout the inspection process
Electronic inspection performed on every vehicle
Fast, Easy and Efficient estimate building functionality
Unique Electronic Additional Service Request (ASR) Tool
Professional/Customer-Friendly Vehicle Condition Report (e-mailed or printed) to every Service Customer
Advanced executive reporting of every step of the Inspection process
Integration with desired CRM to follow-up on Declined Repair/Maintenance Items
TechCheck™ was developed to address a dealership's desire for an impactful, yet affordable electronic inspection tool that facilitates the necessary interaction between Advisors, Technicians and the Parts Departments. TechCheck ™ also provides the ability to produce a professional summary to the customer and provide analytical data reporting to management on all phases of the process.
"This is truly the solution we have been waiting for," says Tony Carimi (Director of Service Operations – Park Place Motorcars Dallas). "We (Dealers) will now have a single software platform that we can utilize to help our advisors easily communicate necessary repairs and maintenance to our clients in a professional manner. TechCheck™ will allow us to keep Service Advisors, Technicians and Parts personnel all on the same page and provide the visibility to track member performance from the initial time of write-up all the way through the active delivery process."
About MOC1 Solutions, LLC
MOC1® was established in 2006, and is headquartered in Glendora, California. MOC1® is an industry leader in delivering value added technology solutions to automotive dealership service departments.
Contact:
Bill Baker at (800) 658-9451.
Please visit MOC1 Solutions at http://www.moc1solutions.com
# # #