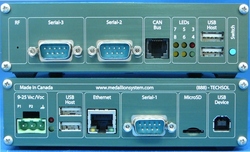 This little computer solves many customer problems
Delta, British Columbia, Canada (Vocus) September 29, 2010
Techsol is offering another standard, off-the-shelf embedded computer with POE as an option, targeting industrial controls and SCADA. This SA2410 Medallion CPU Module compatible single-board-Computer (SBC) features:
Ultra-Low-Power, fanless operation: consuming less than 2 watts at full speed
ARM-9 processor running Techsol's proven Medallion Linux OS for performance and reliability
10/100-BaseT Ethernet interface with status LEDs to ease installation
1 x RS-232 serial interface on DE-9 connector for SW debugging or modem
2 x RS-485 or RS-232 serial interfaces on DE-9 connectors (jumper selectable configuration)
4 USB Host ports (USB-A connectors) offer easy integration of peripherals
plus a USB Device (Gadget) port (USB-B connector)
2 x ultra-efficient SMPS reduce power consumption and heat
Input range of 10 - 30 VDC or 7 - 24 VAC or POE expands your power options
low-power Real-Time Clock with Battery Backup (RTC)
Memory Card Connector for microSD cards, enabling low-cost storage expansion
Power and Error LEDs, plus 4x user-programmable LEDs
And, like all Medallion devices, it ships with Linux 2.6 plus drivers pre-installed.
all packaged into a rugged, aluminum enclosure barely 5.7" x 5.5" x 1.5"
It also fits an off-the-shelf plastic enclosure, or the SBC can be procured alone to embed in your product.
"This little computer solves many customer problems," said Brian Empey, P.Eng., CEO of Techsol. Customers said, "When we work with someone from industrial controls, they want RS-485, but customers in building controls want RS-232. We'd like one computer that does both." Solution: install drivers for both RS-232 and RS-485, and simple jumpers on each serial port. Set the jumpers once and forget it. Its configured for good.
Customers say, "Once we pay for a computer, we don't want to have to pay again to unlock SW features." Medallion Linux offers access to myriad open-source SW packages, from Apache to HSQL to Perl and Python. Techsol does not charge royalties on any SW.
Customers ask "We're running an Ethernet cable, so why should we run power too?" Solution: POE. Or, to go wireless, plug in a supported USB WiFi dongle, and wire the power in. But wiring both power and Ethernet is not required, although units without POE sell for less.
"The cost-savings from using POE (Power Over Ethernet) are substantial, particularly in industrial environments and metal buildings," said Brian Empey, P.Eng., CEO of Techsol, "Compared to having your electrical contractor run power and communications lines to the location of each unit, with POE you just run a single CAT 5 cable and you're done. And since it's 'low-voltage' per the NEC, you usually don't need a certified electrician. Your IT person can normally take care of this for you. This has the potential to save hundreds of dollars per unit installed."
The sustainable design details extend beyond recyclable materials. When the Gateway Express replaces a PC-compatible computer, it usually pays for itself in energy savings, in as little as 2 years.
Techsol customers have deployed these computers in field trials for a year now in applications ranging from monitoring power-generation plants to robot controls.
Pricing for units with POE and rugged all-metal enclosure:
Quantity / Unit Price (standard 200 MHz speed) in USD
10 - $249
100 - $219
1,000 - $189
10,000 - $175 or better, contact us for a quote
Every unit is tested running Linux before it ships. Single units of the Gateway Express 2 are available as development kits with full SW development tools and support. Call for pricing.
Application Software Development kits are available from stock. Production volumes are typically 6 to 8 weeks.
"Embedded Engineering is the same all over the world. Engineers face the same challenges of having too much to do, and not enough time or money to do it with." Techsol's Medallion CPU modules address this issue. "We provide a solution that extends into the production stages of a product, not just the proof-of-concept stage like most SBCs."
Techsol's Medallion system is unique in the embedded computer world. Over time, the Medallion Single-board computer product line will encompass many CPUs. However, the pin-out and form-factor will remain the same. There will be one Medallion module that best matches your application.
"By designing with the Medallion system, you are out-sourcing your CPU design and Linux porting with no NRE fees. That lets your team concentrate on the hardware and software portions of your product that your customers see. The result is that you can create a higher-quality product in a fraction of the time (and cost) of designing everything yourself. Plus, the interchangeable modules extend product life-cycle times."
For more details please visit our Web site at http://www.medallionsystem.com, call 888 TECHSOL (888 832 4765) or 604 946 8324, or e-mail sales(at)techsol(dot)ca.
Techsol is headquartered in Delta, British Columbia, Canada, where the mighty Fraser River meets the Pacific Ocean.
###