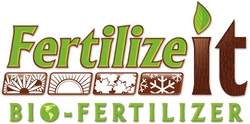 FertilizeIt products are more concentrated than conventional fertilizers and have been proven during university studies to treat up to 10 times the square footage
Rockwall, TX (PRWEB) October 29, 2010
When new technology is introduced in any industry it is typically very expensive. The same would be true in this case; however, the FertilizeIt products are more concentrated than conventional fertilizers and have been proven during university studies to treat up to 10 times the square footage. This comparison is true for both conventional and organic fertilizer competitors. Not only are you treating more area with less product and less money, but you are doing it with a natural, probiotic fertilizer, and enzymatic technology.
FertilizeIt Bio-Fertilizer, Soil Activator, and Sod & Lawn Starter are just some of the products available at http://www.thefertilizerstore.com. All of these products are used for home lawn and garden use, as well as, professional landscape companies for commercial applications. The reduction of chemical fertilizers used in homes and businesses would be an improvement to any community. These green fertilizers give the soil a probiotic jump start to do what they would do naturally. Nutrients are replaced through the soil's natural processes when it has the tools to do the job itself, and that's just what this new technology does. It adds vital resources for the soil to meet its own NPK needs. This is the basis of the new technology and the basis of what saves you money. The soil does all of the work, the gardener is just adding the tools back to the soil that growers have stripped out of it by using synthetic chemicals for decades.
This technology and use of probiotic, natural, and enzymatic products is particularly applicable to the agriculture industry. A reduction in chemical fertilizers and an increase in organic farming all without increasing the price of food! TheFertilizerStore.com offers agricultural volume fertilizers using the same technology as that of the home lawn and garden products. The basic principle is- give the soil the tools it needs and it will fix itself.
###