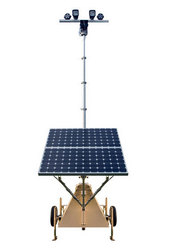 With LED lights like the LED10W-9S, operators can easily cover an area equivalent to several football fields with bright white light that delivers illumination exceeding that of high wattage metal halide light towers
Kemp, TX (Vocus) January 6, 2010
Larson Electronics' magnalight.com announced that by adding two milspec solar panels to its SPG366A-400 solar powered generator, they could now offer lighting configurations of more than 50,000 lumens. Equipped with 8 of the Magnalight LED10W-9S 90 watt LED lights, the solar powered generator could, for example, effectively deliver 57,600 lumens of light for 12 hours and fully recharge the batteries with 16 hours of sunlight. The mobile solar powered generator can be connected to a vehicle via a trailer hitch and towed to remote locations. By calculating the number of hours of sunlight and accounting for cloud cover, dirt and other factors, operators can effectively assess the amount of lighting that makes the unit self-sustaining in remote areas.
"With LED lights like the LED10W-9S, operators can easily cover an area equivalent to several football fields with bright white light that delivers illumination exceeding that of high wattage metal halide light towers," said Rob Bresnahan with magnalight.com. "We offer a wide range of low amp draw, high powered LED lights that can easily replicate traditional diesel generator driven light tower configurations when supported by our solar powered generator. Diesel generators need to be fueled and generate fumes and noise, which isn't always useful for event oriented applications. Also, diesel generators usually produce high voltage, which presents some risks to inexperienced operators. Finally, diesel generators need to be refueled, which can present logistics issues. Solar power generators, like our SPG366A-400, are quiet, and when properly configured, can be completely self-sufficient. Obviously, the number of hours of sunlight is the critical factor. We can and do equip the unit with a hookup for conventional charging via wall outlets to augment the solar capabilities. This is effective for event lighting and other applications where diesel generators are not appropriate. But for remote area installations, operators need to size the lighting configuration to match the daylight replenishment. So there are some challenges there. "
Rob continued, "The area where we see a lot of opportunity is when the solar powered generator is used in combination with our explosion proof LED lights. There is a growing number of remote installations involving natural gas and other hazardous location storage areas that are looking for low voltage, self sufficient lighting. Our Class 1 Division 1 LED lights, combined with the solar powered generator, are a low maintenance, effective solution to this requirement."
Larson Electronics' magnalight.com offers a wide array of LED lights, explosion proof LED lights and other low amp draw lighting alternatives that are ideal for solar power generator configurations. High powered LED lights with low amp draws, operating on 9-32 volts DC can be ideal partners for solar powered, wind powered and other alternative energy generation. Please visit magnalight.com or contact 1-800-369-6671 (1-214-616-6180 international) to learn more.
###