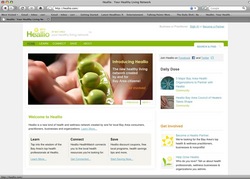 It's become increasingly clear that an evolved idea of reform won't be coming out of the compromises and long process taking place in Washington right now
San Francisco, CA (Vocus) January 21, 2010
The Bay Area won't have to wait as long as the rest of the country to enjoy health and wellness reform, according to a group of local leaders who yesterday launched a new online network to support the variety of choices local residents make to maintain their wellness goals and to shape their health and healing decisions.
Heallio is a content-rich, interactive website that provides a single platform for multiple wellness resources, including local news and information, resources for visitors to exchange ideas, and cost savings programs. At the heart of the Heallio network is a directory of local business and health practitioners, selected for their quality services and reputation, particularly those with a holistic and integrative approach. Heallio plans to expand to other US regions over the next year.
To create widespread awareness for the new website, Heallio kicks off its official launch this week through Facebook and Twitter and by offering the first edition of the Heallio newsletter to people who respond to social media outreach. For copies of the free newsletter, consumers can become Facebook fans, direct message to Heallio on Twitter or email info(at)heallio(dot)com.
Wellness as a Lifestyle
The brainchild of five Bay Area health, technology, and business leaders, Heallio encourages wellness as a lifestyle that supports healthy workers, families, and neighborhoods. They aim to create awareness for a broader scope of wellness choices, informing those choices with expert information and timely news, and making it all easily accessible in a resource that invites daily interaction.
"It's become increasingly clear that an evolved idea of reform won't be coming out of the compromises and long process taking place in Washington right now," said Dr. Bradley Jacobs MD, Heallio president and chief executive officer. "We believe in a better system that not only offers more accessibility and affordability, but one that opens eyes to the many different healing choices available to people seeking whole health and wellness lifestyles – choices that the "old" system restricted."
The Health Network of Professionals
Heallio's health network of professional, unlike traditional medical referral directories, is built on the referrals of the Heallio Council of Healers, a group of highly regarded Bay Area health professionals who invite practitioners they respect to join the network and list their profiles. Responding to consumer inquiries sent to them from the Heallio website, practitioners can personally contact them to discuss relevant health services in the convenience and privacy of their homes. Heallio currently includes 100 practitioners and 120 businesses that extend from San Jose to Santa Rosa, from as far west as Pt Reyes to Walnut Creek.
Heallio also supports its network with expertise from five strategic partners, including

The Symptom Management Service at the UCSF/Mount Zion Cancer Center
The Institute for Health and Healing at California Pacific Medical Center
The American College of Traditional Chinese Medicine
The Palmer-West College of Chiropractic
The Institute of Noetic Sciences
The Heallio website uses a fresh, health-wholesome design with a simple three-button navigation scheme of "Learn," "Connect," and "Save", Heallio allows consumers easily to:

Learn – Heallio publishes timely and relevant local health and wellness news and event notices as well as in-depth articles, blog posts, audio podcasts, and video from local, national, and international experts in traditional and alternative health fields.
Connect – Heallio is the only network of practitioner-referred businesses and practices across all health care disciplines, including holistic and integrative services. This comprehensive list includes profiles on each participant and consumer referrals, making Heallio the only resource that allows consumers to research multiple services on one platform. This is especially helpful as a single diagnosis or health goal often benefits from multiple wellness options. Also, by maintaining a practitioner-to-practitioner referral network, much like Facebook for friendships and LinkedIN for businesses, Heallio strives to bring trustworthy, credible resources to its visitors.
Save – At the click of a button, consumers can access cost savings coupons and special promotions offered by the health and wellness businesses in the Heallio network.
About the Founders

Dr. Jacobs, founding medical director and endowed chair of the UCSF Osher Center for Integrative Medicine and co-author of "The American College of Physicians Evidence-Based Guide to Complementary and Alternative Medicine."
Ken Corr, chief executive officer, technology, media and education executive who has worked with LucasLearning/Lucasfilm, Ltd, IBM, Stanford, Harvard, PBS, SONY, Ken Burns, Sundance Institute, Robert Redford, Disney, CBS, National Geographic, and California Pacific Medical
George Zimmer, founder and CEO of Men's Warehouse, largest retailer of men's apparel and tuxedo rentals in North American and consistently listed as Fortune Top 100 best companies to work for in the U.S.
Dr. Marilyn Schlitz, CEO and president of the Institute of Noetic Sciences, medical anthropologist and researchers, author of peer-reviewed publications and "Living Deeply, the Science of Transformation in Daily Life," and "Conscious and Healing: Integral Approaches to Mind-Body Medicine."
Chris Hemmeter, Enterprise development, financing and operations in hospitality/information technology. General Partner of Quest Hospitality Ventures, Chairman and Chief Executive Officer of iCare Marketing, Inc. and E&O Development, Inc. Harvard Business School Baker Scholar.
###