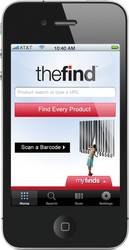 In-store comparison shopping using smartphones is showing incredible growth, and progressive retailers are adjusting their strategies to account for a savvier consumer.
San Francisco, CA (PRWEB) November 28, 2010
TheFind, a leading shopping search engine and provider of the best in-store price comparison app, today reported that for the holiday weekend (through noon on Sunday EST) mobile shopping trips increased by 4.6x over the year prior. TheFind, which sees roughly 1 million shopping visits per day, also reported that mobile traffic accounted for roughly 25 percent of all shopping visits over the holiday weekend as compared to only 15 percent of all shopping visits for the Thanksgiving weekend in 2009.
"In-store comparison shopping using smartphones is showing incredible growth, and progressive retailers are adjusting their strategies to account for a savvier consumer," said Siva Kumar, CEO of TheFind. "Indicative of this trend is our partnership with stores such as Best Buy to show contextual and relevant ads to shoppers based on the items they are actually looking to buy."
TheFind reports that almost half of all the people who have downloaded their app are using the barcode scanner, in addition to taking advantage of the text search capability also built into the app. Also of note is a 3 to 1 advantage for iPhone/iPod/iPad usage over Android devices, while BlackBerry usage of TheFind's mobile web site actually declined 11% over last year.
With the Web influencing over 42 percent of all retail transactions, according to Forrester Research, people are clearly doing their homework online before ever stepping foot in a store. At the same time, TheFind notes that holiday shoppers are browsing retail stores during the weekends and after work, continuing or completing their shopping trips once they're back online. The busiest online shopping times on TheFind.com are typically Monday mornings at 9 a.m. while mobile shopping searches spike after normal office hours and on the weekends. As a result, TheFind is experiencing better than forecasted growth for ecommerce, and is running at 26 percent above last year's level.
"To date, standalone mobile shopping apps have fallen short because they cannot connect consumers' in store shopping to consumers' online shopping activity, either before or after they visit a store," said Siva Kumar, CEO of TheFind. "TheFind Mobile works on the simple premise that a mobile app has more utility when it can scan or search for prices in every store and also be integrated – seamlessly – with the savvy way that people shop from their homes, online."
By installing TheFind Mobile (for free) on their iPhone or Android device and logging in using Facebook Connect, people automatically create a free account on TheFind that helps them keep track of their searches, items they have saved and preferences for specific brands and stores. Consumers can access this account on both TheFind.com and on their phones with TheFind Mobile app. For instance, when someone scans an item in the store, they can also access that item on their computer; and conversely, when a consumer saves items of interest at home, they can instantly recall those items on their mobile phone when they're actually at the store.
TheFind Mobile is available as a free download for iPhone and iPod Touch at the Apple iTunes Store, equipping shoppers to search, compare and shop with the touch of a finger. TheFind Mobile is also available for Android phones at the Android Market.
TheFind also reported that the most scanned category are electronic items and video games with Samsung 32 inch LCD TV, iPhone/iPad and Call of Duty: Black Ops being the most sought after items. For text search, traffic is highest in apparel (parkas, jackets, dresses, hats), jewelry and shoes.
About TheFind
TheFind makes it easy to shop, for anything you like, in every store, all at once. Made possible by patented search and discovery technology, TheFind is the fastest growing top-tier shopping engine and the one people return to more than any other according to comScore's measure of comparison shopping engines. Ranked number 12 on the 2010 Inc. 500 list of fastest growing private companies, TheFind was founded in 2005, has been profitable since late 2008, and was venture funded by Bain Capital Ventures, Lightspeed Venture Partners and Redpoint Ventures. TheFind is a San Francisco and Silicon Valley-based company.
# # #