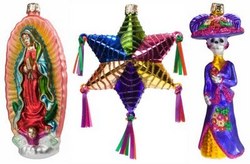 CasaQ's line of exquisite glass ornaments is a great example of our commitment to bringing in cross-cultural products that reflect the needs of our consumers.
San Jose, CA (PRWEB) November 22, 2010
CasaQ, a San Jose-based Hispanic lifestyle company, will debut its exclusive Latin-themed fine glass ornament collection at select Macy's Department Stores this Holiday season.
The product line features Our Lady of Guadalupe, Frida Kahlo, La Catrina, Aztec Calendar and other Latin-inspired designs priced from $19 to $30. Each Christmas ornament comes in an individual gift box with a legend card that explains the history or symbolism behind the design.
"We are always on the look-out for fresh, interesting products from diverse vendors that sets us apart from our competition," says Shawn Outler, GVP, Multicultural Merchandising and Vendor Development. "CasaQ's line of exquisite glass ornaments is a great example of our commitment to bringing in cross-cultural products that reflect the needs of our consumers."
In 2007 when event planner, Darlene Tenes was unable to find culturally significant Christmas decor and gifts, she designed two hand-painted glass ornaments that reflected her Latino roots. They sparked an immediate interest from the Latin GRAMMY® Award producers who called and asked for them to be featured in their official celebrity gift baskets. They had only seen pictures of the designs online, which were not yet available in stores. The ornaments were finished, fedexed and made it into the hands of celebrities just in time for the show.
Since then CasaQ Ornaments have received much press because of their intricate and beautiful designs which have been given as gifts at numerous celebrity driven events such as Alma Awards, People en Español's Christmas Party, CBS' A Home for the Holidays TV Special and American Music Awards Gift Suite.
"I'm excited to be debuting the CasaQ product line at Macy's one of the strongest names in the retail industry," says CasaQ founder, Darlene Tenes, "I appreciate the opportunity they have provided to help me share my passion for my Latino culture with others."
CasaQ's exclusive ornaments can be found at select Macy's Holiday Lane, a paradise of lavishly decorated Christmas trees, thousands of ornaments, and other holiday decor for your home. Store locations and the entire CasaQ Ornament Collection can be seen at http://www.casaqornaments.com.
About CasaQ
CasaQ is a San Jose-based Hispanic lifestyle company, founded in 2005 by Darlene Tenes that is dedicated to providing unique products, services and content geared toward people who embrace the Latino culture. Ms. Tenes is renown for planning festive and creative Hispanic events, which incorporate the traditions and customs of Spain, Mexico and Latin America. http://www.casaq.com
About Macy's
Macy's, the largest retail brand of Macy's, Inc., delivers fashion and affordable luxury to customers at more than 800 locations in 45 states, the District of Columbia, Puerto Rico and Guam. Macy's stores and macys.com offer distinctive assortments including the most desired family of exclusive and fashion brands for him, her and home. Macy's is known for such epic events as Macy's 4th of July Fireworks® and the Macy's Thanksgiving Day Parade®, as well as spectacular fashion shows, culinary events, flower shows and celebrity appearances. Building on a 150-year tradition, Macy's helps strengthen communities by supporting local and national charities that make a difference in the lives of our customers. For Macy's media materials, images and contacts, please visit our online pressroom at http://www.macys.com/pressroom.
# # #