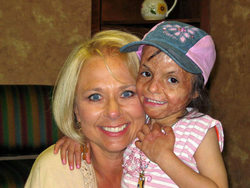 Teeba is truly the hero – my hero, she is so brave and never complains.
Painesville, OH (Vocus) November 22, 2010
People from all over the greater Cleveland area submitted the nominations from which the honorees were chosen. Twenty-five finalists were called to the stage to be recognized, each with their own remarkable story to tell.
'This is the opportunity for the American Red Cross of Greater Cleveland to really bring these individuals to the forefront of the community and give them the recognition that they deserve,' said Susan Elder, Chief Marketing Officer for the American Red Cross of Greater Cleveland.
On July 16, 2006, Barbara began an epic adventure to bring Teeba Furat Fadhil, a severely burned 5-year old girl from Iraq to the United States for medical treatment. When Teeba was 19 months old, she sustained severe burns to her face, head and hands when an insurgent bomb tore through the back of a taxi that she was in with her 3-year old brother and father. Her brother Youseff was killed and her father sustained minor injuries. One year to the day of first reading about her in the paper, Teeba arrived. She is currently undergoing a series of tissue expansions at University Hospital's Rainbow Babies & Children's Hospital in Cleveland and has just recovered from her 14th surgery in three years. Cleveland, Ohio based Wigs for Kids is providing her with wigs. 'I fell in love with her the moment she got off the plane' comments Barbara. "Teeba is truly the hero – my hero, she is so brave and never complains."
Barbara has had many years of philanthropic service in her career and is actively involved in an initiative of Dworken & Bernstein Co. L.P.A called Ohio Lawyers Give Back. Ohio Lawyers Give Back is a non-profit used to promote the use of an ancient doctrine called cy pres. This doctrine allows for all unclaimed class action funds to be distributed to charity. Mrs. Marlowe has also been lobbying for legislation with Dworken & Bernstein Co., L.P.A. partner, Patrick J. Perotti to make this doctrine mandatory in the state. There is approximately $60 Million Dollars each and every year that could be available to charities throughout the state of Ohio.
Dworken & Bernstein Co., L.P.A. is the largest law firm in Lake, Geauga and Ashtabula Counties, Ohio with offices in downtown Cleveland. Dworken & Bernstein offers a full range of legal services for businesses, individuals, and families in litigation and transactions. Dworken & Bernstein is the largest lawfirm in Lake, Geauga, and Ashtabula Counties with 23 attorneys and a staff of 65.
###