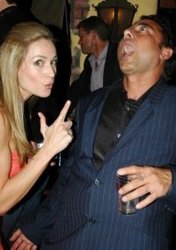 Los Angeles (Vocus) April 6, 2010
On Wednesday, March 24, 2010 at Chaplin Theatre a private industry & cast screening of Rolfe Kanefsky's latest film, the neo-noir "One In The Gun" was held.Chaplin Theatre is in Raleigh Studios, which is at 5300 Melrose Avenue,
Los Angeles LASIK surgeon, Dr.Khanna represented Khanna Institute which sponsored this event. The entire cast was there.It included Robert Davi ("Die Hard", "Goonies", "An American Carol"), Steven Bauer ("Traffic", "Scarface"), Steven Man ("Savage Island", "Sanctuary"), Katherine Randolph ("Jarhead", "Black Ops"), Dana Fares ("Heist").
Kathryn and Steven man play the lead roles, which they execute remarkably. Robert Davi was stern and wonderful in the movie but was polite and gracious in his approach in real life. The movie deals with visualizations and perceptions which is a keen interest of Dr.Khanna.The Producers of the movie are Esther Goodstein, Miriam Bertke, Victoria Burrows. esther even has a nice role in the film.
Director: Rolfe Kanefsky.("Nightmare Man", "Jacqueline Hyde", "Corpses", "Pretty Cool", "Blonde & Blonder") was passionate about the movie and the event. He pointed to a giant gun which would smoke intermittently.
About "One In The Gun":
Manmade Entertainment Productions', "One In The Gun" was the Closing Night Film at the SoHo International Film Festival. It has recently garnered many outstanding reviews as being a "must see" for noir film lovers.
Dr. Rajesh Khanna, is a Los Angeles LASIK and Refractive Cataract surgeon with offices in Los Angeles and Beverly Hills. He is the founder and medical director of The Khanna Institute of Lasik and Refractive Surgery. Dr. Khanna has been voted as the best LASIK surgeon by popular choice by readers of Los Angeles daily news and Ventura County Star. Dr. Khanna has performed vision enhancements on many celebrities and athletes alike. Those we are able disclose include actor Corbin Blue from High School Musical, Disney channel star Brenda Song, Olympic silver medalist Ryan Bailey and Bas Rutten- Inside MMA host and UFC champion fighter. Rajesh Khanna, MD has been feature don the front cover of various magazines like Your Health Connection, Life after 50, Valley news and Beverly Hills times. He has also been featured in Santa Monica Star, Acorn, India West, Opinion Express and numerous other publications. Dr. Khanna has been interviewed and quoted by various radio talk. He is one the pioneers of Lasik eye surgery and is currently at the forefront for advanced eye procedures. He is an experienced and skilled Wave front LASIK, PRELEX and cataract surgeon, Dr.Khanna has performed over thousands of vision correction procedures. Contact: Kelly Schneider Rajesh Khanna, MD Khanna Institute of Lasik Surgery 50 N La Cienga Blvd Beverly Hills 90211 Phone: 805-230-2126 Fax: 805-230-2199 http://www.khannainstitute.com
###