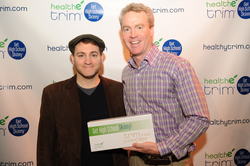 GBK Gift Lounge Raised more than $100,000 for Haiti.
Los Angeles, CA (PRWEB) March 9, 2010
More Oscar-related celebrities came out to the GBK and Healthytrim.com Gift Lounge than any other lounge in town including, Best Actress Nominee Gabby Sidibe, Sherri Shepherd, Angela Bassett, CCH Pounder, Michael Stuhlbarg, Quinton Aaron, Fred Melamed, Sharlto Copley, Mira Sorvino, and others raising funds and awareness for Haiti relief efforts. GBK, The luxury lifestyle gift lounge and special events company, along with Healthytrim.com - the leading edge developer and marketer of nutritional supplements, honored the 2010 Academy Awards Nominees, Presenters and a few special guests with its annual Luxury Gift Lounge on March 5th and 6th 2010 at the newly opened W Hollywood. GBK, the recipient of BizBash's Award for Emmy's "Best Gift Bag," and Healthytrim.com offered its exclusive list of invited celebrities, VIPs, and media an opportunity to enjoy a luxurious environment with gifts, Oscar-inspired cocktails and music (provided by internationally-renowned DJ SiVuPlay). There was also an amazing performance by Abraham McDonald, Island Def Jam's newest vocal sensation and Oprah Winfrey contest winner.
Guests walked away with more than $40,000 in gifted luxury, featuring multiple 5-star vacations, electronics, lifestyle products and luxury items. In addition to the fabulous products and services gifted, there was a continual focus on helping charity (and specific assistance to Haiti relief efforts) at the GBK and Healthytrim.com Gift Lounge. Not only did 20% of proceeds for the event and a 2 gift bags valued at over $40,000 benefit the participating charities, but the Saturday night Celebrity Poker Tournament sponsored by VictoryPoker.net (an online poker training site & lifestyle) benefited the tournament winner's charity of choice with a $10,000 cash prize. HealthyTrim.com added another $4,000 prize to charity in the name of the 3rd place winner. VictoryPoker.net gifted celebrities a $250 gift certificates to victorypoker.net.
Amidst the swanky atmosphere and luxurious design that the new W Hollywood presents, guests enjoyed an elegant film-inspired setting with flower designs from The Mille Fiori. Amate Tequila served Oscar-influenced specialty cocktails and gifted their fine tequila to many happy guests, while Hansen Cakes reprised their role as Master Cake Maker creating an Academy Award masterpiece cake adding to this celebratory occasion!
2010 Oscar Nominees & Presenters received goods & services including:
Stylish jewelry of various materials, including handcrafted pieces from Cimber Designs; Beautiful Diamond Pendant from Nehita Fine Jewelry; The Sampler, gifting a selection of jewelry, t-shirts, elegant stationary and more; and Sandra Mardini Jewelry Designs. Of course no gift lounge is complete without watches, so Armitron and eco-friendly Sprout Watches had plenty of watches to choose from… Armitron was actually Quinton Aaron's favorite gift of the lounge.
There were many brands on the beauty front such as: Co-Presenting Sponsor Hairlocs© - Hair Extension System starting with the finest, 100% Russian and European Hair and application using a simple, unique method by a Certified Hairlocs Stylist; Co-Presenting Sponsor Sevin Nyne. A stain resistant and glamour insistent tanning mist and lotion that bottles the magic of a perfect healthy tan; Celebrity-favorite RevitaLash, gifting their well known eyelash conditioner that lengthens and thickens eye lashes, as well as their new hair product called Hair by RevitaLash which is a conditioner that gives you thicker and fuller hair; Decleor Paris - a night skincare cream for all skin types, formulated with Essential Oils, Black Orchid and Evening Primrose.; Carita Paris, the essential "all-in-one" beauty and anti-aging treatment for the face, body and hair; Xtreme Lashes, the leading Global Revolution in lash extensions, offering a full set of eyelash extension application and award winning Glideliner Design Kit; Eminence Organic Skin Care, gifting their Peach Masque full of organic peaches and lemon to invigorate and enrich the skin for a soft and supple complexion; and Reactivator - gifting the anti-aging facial EGF Reactivator line, which includes the EGF Reactivation Solution Set, Wrinkle Firming Serum, Double Action Perfect Aging Control Cream, and Hydro Luminous Intensive Emulsion and Toner; Lalo Fuentes was keeping celebrities looking good with his training sessions.
Luxurious travel destinations are always a prized component of GBK Gift Lounges, and for this event there were 4 five-star destinations to enjoy: Six Senses Resorts & Spa, a Thai wellness resort dedicated to healthy and mindful living offered a multi-night stay at their resort including all meals and two spa treatments per day; The Ranch at Rock Creek - offered the opportunity to experience a Montana luxury guest ranch that brings together upscale amenities and wide open spaces and the finest cuisine in an outdoor playground; Vila Vita Parc Resort & Spa, the finest five-star resort in the enchanting Algarve region of Portugal - gifted a four-night stay in a luxurious, two-story residence overlooking the Atlantic Ocean and featuring a Michelin-starred restaurant, private beach, yacht, world-class golfing and a country wine estate; The Betsy Hotel a luxury hotel in Miami offered 2-night stays and an invitation to their exclusive, invite-only VIP bar/lounge. To make sure the celebrities can see in the bright sun, Marchon Eyewear provided Calvin Klein Collection sunglasses.
The highly anticipated "Baby Lounge" was a hit too, featuring UPPAbaby with their smart luxury VISTA Stroller suitable from birth up to 50 lbs, as well as their G-LUXE umbrella stroller, the lightest and tallest full-size reclining umbrella stroller in the U.S.; RS Baby provided an opportunity for the Celebrities to bring their kids and design their own custom made shirts. One lucky Artist will have their shirt made for mass production where 100% of sales will go to their charity of choice. Cadcor Innovations Inc. Distribution - Distributor of fine baby, children's and family products brought a variety of items including Dittany, Hopscotch Kids, and Kensey Lu - offering gift packs including girls hair clips + an on-site activity center to create their own hair clips.
Health and wellness advocates enjoyed the health-centric corner featuring our Co-Presenting Sponsor HealthyTrim.com who gifted their line of products to help the celebrities get back to their high school weight. Center for Advanced Medicine, Dr. Rashid A. Buttar's clinic, Trans D Tropin; ResVitále,- an organic-based, aging-well supplement line specializing in Resveratrol, sold exclusively at GNC nationwide; Prevennia - a dietary supplement that blocks the initiation of breast cell mutation; Slim Secrets - snack bars and cookies from Australia, healthy snack alternatives that taste too good to be true; Far North Wellness - manufacturer of far infrared saunas and massage.
In-line with the poker-themed Saturday evening, KSino, a premium gaming-apparel company for men and women, gifted from their exciting line of clothing; KRAVE gifted their electronic cigarettes-the newest trend in smoking addiction liberation. To complete all the festivities, Popcorn, Indiana was a hit with their perfect gourmet snack. Its crispy, crunchy, salty and sweet taste was comforting and familiar to all.
Other great gifts included: Beamz Interactive, an electronic device enabling people of all ages to play, create and perform great music; BEST OF, LLC, with a custom made scrapbook; The Pillow Company; 6 months of classes from Nightclub Cardio; Love Nail Tree inspiring t-shirts, The Peek-A-Boo Boutique, gifting many unique items from their specialty website for him and her; Apollo Jets, Boxer Wachler, Heutchy, Reuse Jeans, Merkury Innovations, Elevee Custom Clothing, For Every Home- Kardashian Candles; and Suite Services, gifting dress from Gordana Gehlhausen and educating the guests about the Milton Hershey School Foundation.
Benefiting charities include: Help for Orphans International and HUFH, Hollywood Unites for Haiti
GBK, formerly GBK Productions, is a luxury lifestyle gifting and special events company, specializing in entertainment marketing integration. Formed in 2000 by Gavin Keilly, the company's Founder and CEO, GBK consists of five divisions: GBK Celebrity Gifting Lounges, GBK Events, GBK Weddings, GBK Charitable Consulting and GBK Marketing/PR. Widely known in the entertainment industry for bringing that little extra something into the Gifting Lounge environment, GBK offers its clients a full range of marketing services. For more information on Gavin B. Keilly (CEO), Carla Domen (VP) or GBK, please go to gbkproductions.com.
For More Information on Help for Orphans International, go to helpfororphans.org
For More Information on HUFG, Hollywood Unites for Haiti, go to hufh.org
###