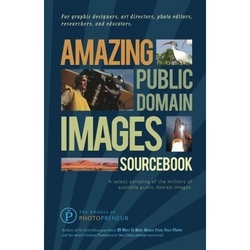 New York (Vocus) July 28, 2010
Photopreneur, the No. 1 blog covering new opportunities in the photography business, today announced the release of its new book, "Amazing Public Domain Images Sourcebook." At a time when photo editors, art directors, graphic designers, researchers, educators and bloggers worldwide are seeking free and low-cost images to illustrate their work, Photopreneur provides guidance on utilizing the world's largest free photography collection: the tens of millions of images currently in the public domain.
The 232-page soft-cover book, published by New Media Entertainment, is available at Amazon at http://tinyurl.com/Public-Domain-Sourcebook.
"This sourcebook contains more than 200 of the most incredible public domain photos we could find," says Photopreneur editor Scott Baradell. "Each photo is displayed with its origin and location, providing designers, editors and bloggers with an enormous resource -- and any photography lover with a starting point for their own photographic explorations."
Photo sources for the "Amazing Public Domain Images Sourcebook" include the U.S. Bureau of Land Management, the U.S. Department of Defense, the U.S. Fish and Wildlife Service, the U.S. Geological Survey, the Library of Congress, NASA, the Netherlands-based Nationaal Archief and the Swedish National Heritage Board, among others.
The editors of Photopreneur are authors of the best-selling paperback "99 Ways To Make Money From Your Photos," as well as "The Successful Wedding Photographer" and "The Successful Flickr Photographer."
NOTE TO MEDIA AND BLOGGERS: If you are interested in a review copy of "Amazing Public Domain Images Sourcebook," please contact Robert Huckels at (972) 235-3439 or rhuckels(at)ideagrove(dot)com.
About Photopreneur
Photopreneur is one of the Web's top photography sites, featuring stories, interviews and expert marketing advice. Its editors bring together decades of experience at the highest levels of professional photography. The Photopreneur team combines rigorous research, marketing creativity and a deep understanding of the photography business to help photographers – professional, enthusiast and occasional – earn income from their images. Photopreneur is owned by New York City-based New Media Entertainment, Ltd. Check out Photopreneur at http://blogs.photopreneur.com.
Contact: Robert Huckels
(972) 235-3439
rhuckels(at)ideagrove(dot)com
###