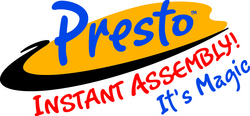 (PRWeb UK) January 26, 2010
Fellowes, the leading provider of workspace solutions and records management, has introduced its latest innovation – Presto technology. With Presto, Fellowes' R-Kive (R) Premium storage boxes feature the world's fastest assembly system. Presto is designed to infuse some 'magic' into ordinary filing and storage tasks. R-Kive Premium with Presto is the fastest box to assemble in the world, it saves the most precious commodity – time, and it is also environmentally friendly.
R-Kive Premium with Presto is INSTANT
The R-Kive Premium Presto storage box is 16 times faster to assemble than a manual storage box - simply push the corners together and it is ready to use. It only takes 1:3 seconds to assemble compared to 16:1 sec for the standard manual box. This archive box can save up to 630 minutes a year if you have to assemble on average 10 storage boxes a day – time and energy that can be spent elsewhere - making it ideal for businesses looking for a superior storage solution.
R-Kive Premium with Presto is GREEN
As well as being fast, the R-Kive Presto storage solution is also environmentally friendly. It is made from 100% recycled board using water-based inks, solvent free adhesives and it is 100% recyclable.
R-Kive Premium with Presto is DURABLE
The R-Kive Premium storage solution is also known for offering maximum strength and durability. It includes magazine files and transfer files as well as the Premium Presto corrugated cardboard storage boxes which come in two sizes. With a double layer thickness base, glued double sides and edges offering maximum stacking strength for the ultimate space-saving storage solution.
"Fellowes has always been committed to delivering practical and innovative filing and storage solutions with minimal impact on the environment. Our new Presto construction means that our storage boxes are now the fastest in the world to assemble as well as being durable and green. We have developed this new system to help simplify storage box assembly, something that customers will definitely appreciate – no complicated instructions, no wasted time – simply push the corners together and the box is ready for use" commented Steven Hickey, European marketing manager for R-Kive, Fellowes Europe. "The R-Kive Premium range is ideal for any business or home office because it offers superior strength and durability combined with Presto's time-saving construction."
To support the introduction of Presto, Fellowes are offering 20% Extra FREE on R-Kive Premium Presto storage boxes during January, February and March 2010.
Fellowes has literally brought magic to storage solutions - to view the R-Kive Hey Presto! magic show or learn a magic trick visit http://www.youtube.com/fellowesoffice.
About Fellowes UK
Fellowes UK is based in Doncaster, South Yorkshire and is a subsidiary of Fellowes Inc. headquartered in Itasca, USA. Fellowes offers an impressive range of products to equip the workspace, including paper shredders, binders and laminators, desktop accessories and are the UKs leading filing & storage brand with R-Kive® range. . With subsidiaries in Canada, Benelux, France, Germany, Italy, Poland, Russia, Spain, China, Singapore, Japan, Korea and Australia, Fellowes employs more than 2,700 people throughout the world and expects global sales in excess of $700 million this year.
Fellowes offers the R-Kive Premium storage box featuring Presto® in two sizes. The classic storage box is available in the traditional woodgrain and blue and accommodates A4 documents. The tall storage box is available in four colours; woodgrain, blue, red and green, accommodating A4 and foolscap documents, folders and ring binders as well as R-Kive Premium transfer files. Fellowes R-Kive Premium Storage boxes featuring Presto® are available from most office products suppliers. For stockist details or for more information on the R-Kive Premium range featuring Presto® call Fellowes on 00800 1810 1810 or visit http://www.fellowes.com/presto.
###