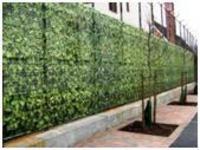 Renton, WA (PRWEB) July 26, 2010
Emerald City Fence Rentals has been serving Washington state businesses and events for nearly a decade. It has become a favorite source for temporary fence rental due to its excellent service. In July 2010, the company expanded its scope by adding new website http://www.PrivacyFenceSolutions.com serviced by its branch, Emerald City Products. It fulfilled the need for an attractive, durable and efficient products for projects like construction, tennis courts, private events or even tenant improvements, which demand privacy with high aesthetic appearance. Emerald City Products provides a unique solution, which not only secures the property but also adds value. All of it IS done easily, affordably and fast.
It is accomplished with beautiful privacy fence fabric, installed over existing or temporary fence. Made of durable outdoor vinyl mesh fabric, is permeable to wind while reducing light penetration. It comes in several densities allow varying degrees of privacy and metal grommets for do-it-yourself installation.
"A unique benefit of this fence fabric is that it can be made to custom dimensions, specific to the customer's needs" says the owner of the company, Bob Bartell. "There are virtually limitless possibilities of applications. Fence fabric is much less expensive, quicker and more flexible than building permanent fence and unlike a solid structure, it can be taken with the owner when it is time to move or reused on next project".
The privacy fence fabric can be printed in several different colors or 45 beautiful digital images. This allows improving unsightly surroundings with an image of an old stone wall, a green tall hedge, field of flowers or even a Tuscan village. The patterns are amazing, the quality is superb. Only close inspection reveals that the blooming flowers or old bricks are an actual fence fabric. It transforms the area within minutes, securing an improved relationship with the neighbors while it protects the privacy or equipment.
Through the use of fence fabric, Emerald City Products can help the businesses gain more visibility, by printing customers' logo. "Talking about standing out from the crowd – this is a definite edge for our customers over the competition. It is being used at the sports events, tennis areas, swimming pools, kennels or day care facilities. Our staff can help with the design, graphic message, choice of colors etc. We can even create a "before" and "after" photo, as a part of free quote" says Bob.
To receive more information please visit http://www.PrivacyFenceSolutions.com or contact info (at) EmeraldCityProducts (dot) com.
###