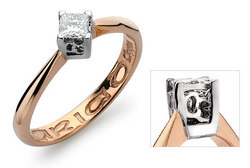 (Vocus) July 22, 2010
Celtic Jewellery Site now offers a variety of Celtic rings made from Clogau Welsh gold, the same gold used for wedding bands in the Royal family. There has been much speculation recently about the likeliness of the engagement of Prince William to Kate Middleton. The couple has been together for over 7 years. Prince William was once quoted as saying that he did not want to get married until he was 28 or 30. The Prince celebrated his 28th birthday on June 21st increasing engagement rumors.
If the couple were to become engaged, it is very likely that their wedding rings would be made from Clogau Welsh gold, as is tradition for the Royal family. The purity of Welsh gold increases its value making it highly sought after.
The tradition was started in 1923 with the marriage of Queen Elizabeth the Queen Mother, then Lady Elizabeth Bowes-Lyn, to King George VI, then the Duke of York. Their wedding rings were made from a single Welsh gold nugget from the Clogau gold mine that was owned by Mr. Bartholomew.
In 1947, the craftsman who made the Queen Mother's ring offered the remaining part to the Princess Elizabeth to make her wedding ring upon her marriage to Prince Philip, the Duke of Edinburgh on November 20th at Westminster Abbey. The royal couple made history in 2007 as the first British monarch to celebrate 60 years of marraige.
Princess Margaret, the Countess of Snowdon wore a Clogau welsh gold wedding ring made from the same nugget. She was married in 1960 to photographer Antony Armstrong-Jones.
The same nugget was used in 1973 for Princess Anne the Princess Royal's wedding ring when she married Captain Mark Phillips.
Diana the Princess of Wales and Prince Charles the Prince of Wales exchanged Clogau gold rings at their wedding in 1981. Diana's wedding ring was the last made from the same nugget that was used for the Queen Mother's ring. The simple gold band was engraved on the inside with the words: "I Love You, Diana".
Only a sliver of the original nugget remains. In November 1981, the Royal British Legion presented the Queen with a 36 gram piece of 21 carat gold for future royal wedding rings. This nugget was used for Sarah the Duchess of York in her marriage to Prince Andrew in 1986.
Sophie, Countess of Wessex also received a ring from this nugget upon her marriage to Prince Edward in 1999. Their rings were made in a traditional design by Crown Jeweller David Thomas of Asprey and Garrard.
Prince Charles also exchanged Clogau welsh gold rings with Camilla the Duchess of Cornwall in 2005. They were designed by Wartski of London.
It is believed that Prince William will use one of Princess Diana's favorite rings to propose to Kate. It is rumored that William would wear Diana's famous blue sapphire engagement ring at the ceremony and then pass it on to Kate. The couple would then exchange the welsh gold wedding bands.
Celtic Jewellery Site offers Clogau Welsh Gold jewellery. Beautiful Celtic rings, pendants, bracelets and earrings made from this rare gold are a valuable treasure. Get a connection to the Royal family while this scarce gold is still available.
To view Celtic Jewellery Site's collection of Clogau Welsh Gold jewellery visit http://www.celticjewellerysite.com.
# # #