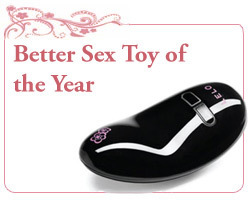 Sales represents wisdom of crowds and is one aspect of our Sex Toy of the Year award
Chapel Hill, NC (Vocus) January 28, 2010
BetterSex.com crowns the Lelo NEA Sex Toy of the Year. The NEA is a beautiful combination of form and function, made of surgical-grade elastomer plastic suitable for water, silicone or oil lubricants. The Lelo Nea is ergonomicly artful with floral motifs. The NEA hums quietly, but don't let its small size fool you; the buttons above it's logo adjust vibrations among five different levels, the fifth being surprisingly strong. One of the best features is it's eco-friendly (rechargeable). From a full charge, the Lelo Nea provides 7 hours of pleasure.
Lelo, A Sweedish company based in Stockholm, says it best, "We blend fashion, femininity, engineering and design to create objects not just functional, but seductive in their own right. Lust objectified to inspire a positive and confident sexuality." Lelo is looking at raising the bar again this year with the Lelo BO product.
Lelo's Nea packaging is beautiful, simple and familiar. When you first look at NEA's box, you think that it could be hide an expensive watch or jewelry. Once opened, you see the NEA, instructions, charger and a satin storage bag.
Lelo's NEA was a top-seller at BetterSex.com in 2009. "Sales represents wisdom of crowds and is one aspect of our Sex Toy of the Year award," explained Martin Smith a company Director BetterSex.com also considers product quality, innovation and reviews from its Better Sex Buzz Team. Lelo Nea sets the sex toy design bar high for 2010. Lelo's NEA may play the same influential role in the sex toy vibrator market the iPhone established in cell phones. "I don't want complicated when I'm trying to relax and treat my mind to the focus of one simple pleasure," - ToyWithMe.com
Rounding out the Top 10 Sex Toys of the Year at BetterSex.com:
#2 We-Vibe
Last year's selection as the BetterSex.com Sex Toy of the Year, We-Vibe is sleek and sexy offering a new dimension in intimate pleasure. The We-Vibe is a hands-free dual simultaneous G spot and clitoral stimulator, AND a revolutionary design that can be worn DURING intercourse. We-Vibe established a new sex toy category and was recently given to celebrities at the Oscars providing more proof adult sex toys are going mainstream. We-Vibe was also Viewer's Choice Toy of the Year on Talk Sex with Sue Johanson in 2008.
#3 16-Function Rabbit Super Vibrator
The 16-Function Rabbit Super Vibrator's secret was discovered and defined in glowing Better Sex Buzz Team reviews. Reviews mentioning "endless pleasure" and "Wow" more than doubled sales of this fully functional rabbit vibrators. Rabbits simultaneously stimulate a woman's clitoris and g-spot and became immensely popular after being featured on Sex and the City.
#4 Dr. Laura Berman's Sex Toy Line
Featured in January, 2008 on the Oprah Winfrey show Dr. Berman's sex toys are poular, mutli-functional and designed by an MD. Regular appearances on The Oprah Winfrey show keeps Dr. Laura Berman and her sex toys in demand.
#5 Platinum Jack Rabbit
Just when we thought rabbit innovation was exhausted California Exotics Platinum Jack Rabbit proved us wrong. The Platinum Jack Rabbit sets a new standard for rabbit ergonomics and function control. The Platinum Jack Rabbit proves innovation and attention to detail never goes out of style.
#6 Vacurect OTC Penis Pump
80,000,000 baby boomers all heading toward longer life spans and a desire to redefine what it means to "retire" is creating a substantial market in erection aids such as the Vacurect OTC pump. Vacurect helps a man achieve and maintain an erection without taking drugs.
#7 B3 Onye Vibrator
B3's Onye's sensuous curves and a luxurious onyx cylindrical body belie the power within 3 speeds of vibration from gentle to intense, plus five patterns of varied pulsation.
#8 Super Head Honcho
Super Head Honcho brings design and production evolution to masturbation sleeves with sturdy yet sensitive material checked with new sensation patterns.
#9 Rocks Off Rude Boy Prostate Massager
Prostate massage has been featured in medical literature as a possible cancer preventative. Since prostate cancer effects several hundred thousand men every year, prostate massage is a growing sexual trend. Possibly more motivating than avoiding cancer is increased pleasure many men report from prostate massage during love making.
#10. Dream Maker Nocturnal Emission
Dream Maker's revolutionary approach to g-spot stimulation created immediate acceptance in 2009. This "rabbit" vibrator uses sliding discs instead of the typical beads or "pearls" to stimulate a woman's g-spot. Better Sex Buzz Team reviewers have given a rare 5 heart rating to this Dream Maker.
All of the Sex Toys of the Year are available at the BetterSex.com website.
###