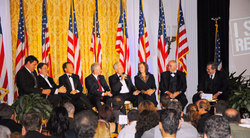 Together with its sponsors, The Norris Group and I Survived Real Estate has now raised over $160,000 for the Orange County Affiliate of Susan G. Komen for the Cure.
Riverside, CA (PRWEB) September 15, 2010
The Norris Group is providing a live video of Friday's real estate forum at the Richard Nixon Library.
The feed can be accessed live at uStream.com from 7 p.m. to 10:30 p.m. PST using a link at http://www.TheNorrisGroup.com and http://www.ISurvived2010.com. A link to a recorded video of the entire discussion will also be posted online after the event.
The Norris Group has assembled a panel of nationally recognized experts in economic and real estate trends to discuss the current state of the economy and future trends in California real estate.
Bruce Norris, a Riverside-based real estate consultant, investor and educator who correctly predicted the current sub-prime lending and foreclosure crisis five years ago, will moderate Friday's forum. Panelists will include:

Sarah D. Letts, Director, Credit Loss Management, Fannie Mae.
Joseph C. Magdziarz, President Elect, The Appraisal Institute.
Daniel J. Phelan, Mortgage Bankers Association, Commercial Leadership, and President and CEO, Pacific Southwest Realty Services
Christopher Thornberg, an economist with Beacon Economics
Sean O'Toole, President and Founder, ForeclosureRadar.com.
Peter Wayman, Senior REO Sales Director, Freddie Mac
Tommy Williams, 2008 president of the National Auctioneers Association.
Norris, who has built a following in the real estate community and with news reporters after producing consistently accurate real estate forecasts, said the panelists should provide a clearer picture of what we can expect to happen in real estate markets in California and elsewhere in the coming months.
Norris regularly interviews lenders, economists, builders and other housing experts on his weekly real estate radio talk show, which airs at 6 p.m. Saturdays on KTIE 590 AM in San Bernardino. Podcasts of Norris's award-winning radio interviews can be accessed through his company website, http://www.thenorrisgroup.com.
Net proceeds from the Sept. 17th event will be donated to the Orange County affiliate of Susan G. Komen for the Cure, the world's largest grassroots organization dedicated to finding a cure for breast cancer.
The Norris Group would like to extend a special Thank You to all of its sponsors including Claudia Buys Houses, Foreclosure Radar, Frye / Wiles, Investors Workshops, investClub for Women, MVT Productions, Richard Nixon Library, San Diego Creative Investors Association, San Jose Real Estate Investors Association, The Business Press, White House Catering, Adrenaline Athletic, Awesome Limousines, Benton Investment Group, Community RE-Invest Group, Delmae Properties, Elite Auctions, Entrust California, Everlast Photography, Inland Empire Investors Forum, Joe Lahore and Matt Antoniou, Keystone CPA, Landwood Title, Las Brisas Escrow, Leivas Financial Services, Mike Cantu, North San Diego Real Estate Investors Association , Northern California Real Estate Investors Association, Personal Real Estate Investor Magazine, Realty 411 Magazine, Rick & LeeAnne Rossiter, Summit Solutions , Tony Alvarez, Wealth Point, Westin South Coast Plaza.
Together with its sponsors, The Norris Group and I Survived Real Estate has now raised over $160,000 for the Orange County Affiliate of Susan G. Komen for the Cure.
For tickets and other information involving the Sept. 17th event, please visit http://www.isurvived2010.com . Reporters seeking advance interviews with Norris and panel participants before or after the event should contact Aaron Norris at (646) 418-4437.
###