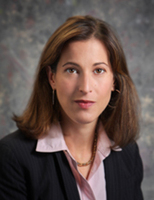 "The West Penn Multi-List is acting like a bully, not allowing the 6000 plus area Realtors to use MLS home search data on their websites. It's bad for the clients and bad for the brokers too." Liz Caplan, Realtor® in Squirrel Hill, PA
Pittsburgh, PA (PRWEB) December 20, 2010
Leading Pittsburgh Real Estate Agent Liz Caplan never liked hearing the word "No."
When Caplan contacted the West Penn Multi-List Inc. to supervise adding MLS home search to her new website, she was shocked to be informed that unlike the vast majority of multi-list organizations around the U.S., West Penn MLS did not allow their data to be used on a Realtor's® personal websites. Area MLS data is only allowed on area Real Estate Broker websites, the same companies that own the West Penn MLS as a consortium.
West Penn is the same MLS group that is currently being accused of anti-competitive practices in a Federal lawsuit, in the case LOGUE v. WEST PENN MULTI-LIST, INC. (Case Number: 2:2010cv00451. Filed: April 6, 2010. Court: Pennsylvania Western District). Previously, West Penn signed a consent decree written by the Federal Trade Commission (FTC) in November of 2008 (File #081-0167) that stemming from other complaints that West Penn violated anti-trust laws with their policies. The 2008 consent order signed by West Penn stipulates there is no admission of guilt concerning these or other alleged claims.
Liz Caplan is a Realtor® specializing in homes for sale in Fox Chapel, Shadyside, Downtown Pittsburgh and other real estate in greater Pittsburgh. "I was extremely disappointed regarding West Penn's rules, because I felt that consumers would appreciate having MLS search as part of my website," Caplan said. "Quite frankly, the national website company was stumped because they create thousands of real estate agent websites that always include MLS search" Caplan explained. "They were surprised to learn that the Pittsburgh area MLS service didn't allow home search on Realtor websites," Caplan said.
Caplan feels that she has overcome the hurdle of what she believes are restrictive rules of the West Penn Multi-List. "I wasn't just going to allow this large company to force me to have a less than great Realtor website," explains Caplan. "I've added fantastic data to the site through a third-party vendor and people love the information."
The site now offers consumers detailed real estate market data for many zip codes in Pittsburgh, including inventory of homes on the market, average seven day prices, and a host of other data. For example, a consumer can review how many new Shadyside homes for sale we're added to the MLS in a given week, as well as eleven other data points regarding Shadyside, PA real estate.
Liz Caplan is an experienced million dollars volume Realtor who specializes in luxury homes, and it the leading real estate agent buying and selling homes for sale in downtown Pittsburgh.
For more information regarding top Pittsburgh Realtor® Liz Caplan call 412-302-2645. Liz is a local Squirrel Hill PA Realtor with Re/Max Realty Brokers office on Wilkins Ave. in Squirrel Hill, PA.
# # #