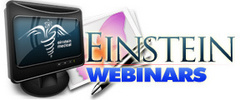 Doctors From Around The World Are Discussing Patient Conversion, Marketing Secrets and Growing Their Practices In These Groundbreaking Webinars...
Boston, MA (PRWEB) April 10, 2010
Two weeks prior to the American Society of Cataract and Refractive Surgeons (ASCRS) meeting in Boston, Einstein Medical began this extraordinary series. Dr. Andrew Holzman of TLC Laser Centers, (http://www.drholzman.com ) hosted the first of these webinars. Dr. Holzman focused on converting new patients and what psychological triggers create comfort and rapport between doctor and patient. After an open discussion about his practice and all internal and external marketing, the webinar opened up into a life Q&A format. Dentists, plastic surgeons, and other specialists from around the globe discussed their techniques, successes, and pitfalls in this open format. The back and forth between specialists was amazing and lasted for over an hour.
One week prior to American Society of Cataract and Refractive Surgeons (ASCRS) Dr. Jon Dishler (http://www.dishler.com ) hosted the second webinar in the series. This one focused on patient follow-up systems and internal marketing techniques. Again the floor opened up and dozens of topics were discussed between doctors of extremely varied fields. There was an amazing sharing of knowledge and discussion.
This week, prior to the upcoming American Society of Aesthetic Plastic Surgery (ASAPS) meeting another cross specialty webinar was conducted. The guest host this time was Lauri Kane, manager of the Center for Cosmetic Surgery in Baltimore, MD (http://www.drdeankane.com). This webinar focused on social media, blogs, and promotions to build databases of prospective patients and referring advocates. Again, the floor opened up to a barrage of questions from specialists from around the world. The information shared was educational and really focused on the emerging referral patterns created by social media, blogs and email blasts.
Upcoming seminars: there are still 3 more cross specialty webinars slated for the next 2 weeks. Dr. Sheldon Seidman, Dr. Kimberly Henry and Dr. Mark Hyman are all upcoming guest hosts. To sign up for these webinars go to:
http://www.einsteinmedical.com/2010/03/12/einstein-spring-webinar-series-meet-the-experts/
What people are saying about the Einstein Cross Specialty Webinar Series:
"I learned about monthly and quarterly specials, to sit down for patient pictures, and to consider getting someone in-house with Photoshop skills."
Dr. Drew Shulman
Philadelphia, PA
"…using email blasting more effectively - how to develop cross referrals between specialties - good seminar."
Dr. Bruce Wilderman
Doyleston, PA
"…importance of getting email addresses and referrals, email blasts and contacting new referrals immediately, financing patients treatment in today's economy."
Dr. Dorita Newsome-Dobbins
Livingston, NJ
"I learned about Social Media from someone who has already been using it, learned more about seminars by doctors instead of my education/sales staff. It was very useful to have someone in my field as a presenter. Everything discussed directly related to my day to day business."
Sofie Shoaf
Patient Coordinator - London Eye Centre
"I learned new marketing secrets and internal marketing. Would like to see another one."
Dr. Carla Anderson
Alexandria, VA
"I learned many things...how to get more patients, how to advertise better, etc."
Esther Hobbs
Practice Manager
"Great marketing tips, plus mistakes to avoid. It nice to see how practices in other areas of the country market their services. - excellent!!"
Lisa Snyder
Practice Manager - Dr. Simona Poulter
"Great ideas! I have a lot to implement. Thanks. Very well organized and well done."
G. Gregory Gallico, III, MD
Boston, MA
I learned how to break down and analyze my practice design and copy."
Gavin Sandercoe M.D.
NSW, Australia
For further information, please contact Steve Schadt, Director of Marketing, at 800-258-9221.
ABOUT EINSTEIN MEDICAL:
Einstein Medical is the leader in online marketing solutions for the medical industry. A division of Einstein Industries, Inc., Einstein Medical offers a wide range of products and services designed to increase the financial success of its clients. Einstein Medical is at the forefront of website development, having created some of the most effective medical websites on the Internet today. Einstein Medical controls DocShop.com the premiere online directory for the cash paid component of healthcare.
###