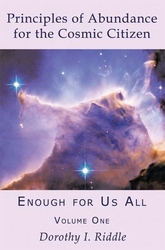 Until we are clear about who we actually are and our intended relationship with the rest of life
(Vocus) August 12, 2010
The subject of quantum physics has birthed many pursuits. Google it and one will pull up everything from the industry blog Science Daily to the website of the surprise hit documentary What the BLEEP do we know!? Yet, despite having more resources than ever before on this exacting branch of physics, it still remains an obscure concept for many people. Dr. Dorothy Riddle is out to change that. In her new book Principles of Abundance for the Cosmic Citizen: Enough for Us All, Volume One (published by AuthorHouse), she translates the principles of quantum physics into practical tools that we can use to transform ourselves, our communities and our worldview.
Riddle brings together insights from physics, cosmology, biology, economics, psychology and metaphysics to confirm our cosmic interconnectedness and our basic motivation to cooperate rather than to compete. She weaves a compelling portrayal of ourselves as part of an ever-evolving and abundant (though not unlimited) universe.
Makes sense so far, right? That's because the principles Riddle lays out are innate within us. Think of it as looking into a mirror, only the reflection you see goes beyond the surface. For many of us, our misfortune has been that such a mirror has not come into our lives. "Until we are clear about who we actually are and our intended relationship with the rest of life," explains Riddle, "we are not in a position to actualize our potential and shift from fear to joy as our basic motivation."
Principles of Abundance for the Cosmic Citizen invites us to experience this profound paradigm shift through questions, exercises, worksheets and practical examples. It enables us, as collaborators with this planet, to unfold future possibilities in all their potentiality. In the face of such a vision, how can we not choose a new way forward?
Dorothy I. Riddle, Ph.D., CMC, psychologist and economic development specialist, has worked and taught in more than 85 countries. Her engagement in her community and the world focuses on building bridges of understanding among persons from different cultural, socioeconomic and faith communities while working compassionately for justice and equity. Principles of Abundance for the Cosmic Citizen reflects the breadth of her awareness and her ability to integrate disparate fields into a meaningful whole and provide practical strategies for moving forward. For more information, visit http://www.EnoughForUsAll.com.
AuthorHouse is the premier book publisher for emerging, self-published authors. For more information, please visit http://www.authorhouse.com.
###