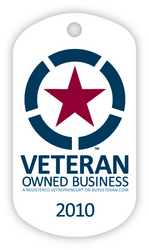 The military teaches leadership, teamwork, integrity, resolve and ingenuity
New York, NY (Vocus) October 27, 2010
In celebration of Veterans Day approaching on November 11th, the National Veteran-Owned Business Association (NaVOBA) proudly announces the launch of the Buy Veteran Marketplace at Buy Veteran. Buy Veteran is a national movement to connect Americans with the 3 million locally-run, -owned and -operated military veteran businesses in their communities.
Beginning November 1, people can locate veteran-owned businesses via a growing geographical directory found at Buy Veteran. Whether you're looking to order a pizza, construct a home, prepare your taxes or find a great dry cleaner, simply type in what you need and the location, and you'll find a list of veteran-owned businesses in your area. Individuals can also find veteran-owned businesses by looking for the "Veteran-Owned Business" badge on storefronts, work vehicles and business cards.
"The military teaches leadership, teamwork, integrity, resolve and ingenuity," said NaVOBA President Chris Hale. "These are the qualities Americans are looking for in the people they do business with at home and nationally. Buy Veteran is a win/win in a tough economy for veterans and for people who want expert services and reliable products while supporting those who have served and sacrificed for our country. Buying from our nation's veteran-owned businesses is not just patriotic; it's a seal of quality and trust."
A 2009 nationwide poll revealed that 95 percent of Americans trust veterans who trained under a strict code of discipline and ethics, and feel a strong sense of gratitude toward the men and women in the military. This Veterans Day, Americans across the country can find personal and tangible ways to connect with and say thank you to military veterans and their families in their own communities while making smart choices for themselves through the Buy Veteran Marketplace.
"I'm a proud Marine veteran and a registered member of NaVOBA," said Stephen Cochran, critically acclaimed country singer, whose personal story speaks to the heart and soul of dedication and hard work. Having come back from serious injuries sustained in Afghanistan, he recharged his promising music career, which includes the recent video release of his hit song "Wal-Mart Flowers" and he has built 4 businesses. Cochran is a living example of why it is smart to Buy Veteran. "Buy Veteran is a national movement everyone should join," he says. "We're highly skilled, reliable and motivated businessmen and women -- and we're your next door neighbors. Shopping with us is good business for both the local and the national economy – and our kids go to school with yours."
NaVOBA makes it easy to spread the Buy Veteran message by ordering window stickers, shirts, hats and other merchandise on http://www.BuyVeteran.com. Friends and family can purchase gift memberships for a veteran-owned business they know, gift Buy Veteran merchandise to a Vetrepreneur or buy and wear it themselves in a show of support.
Business owners are verified for veteran status by NaVOBA through a series of questions, cross-checks and a fraud feedback mechanism. All military veterans who own businesses can register their business for free in the online Marketplace at http://www.BuyVeteran.com. To find a local business, join the movement or learn more, visit us on the web.
For Press Information visit: Buy Veteran Press Room
###