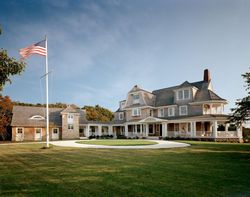 His work has been praised in the New York Times by Pulitzer prize-winning architecture critic Paul Goldberger who noted, 'an architect whose shingled and clapboard houses are handsome and expansive, and endeavor to fit into their surroundings.'
Boston, MA (PRWEB) October 26, 2010
When New England Home magazine rolled out its first issue in September/October 2005, it was Thomas P. Catalano's work that graced the cover of the premiere issue. This November, Thomas P. Catalano, AIA, LEED AP will be inducted into the 2010 New England Design Hall of Fame, which honors a select group of architects, interior designers and landscape architects. The honorees are chosen for their significant contributions to residential design in New England through their work, influence and community involvement.
Prior to starting his own firm, Catalano worked at the renowned firms of Robert A.M. Stern and Graham Gund. He established Catalano Architects, Inc. in 1987 with a focus on contextually sensitive traditional American architecture. Marking Catalano's distinguished career are a variety of dwellings - from the expansive shingle style waterfront homes along the shores of Cape Cod, Martha's Vineyard and Nantucket to the elegant suburban homes nestled into their landscapes throughout New York State and New England, including the towns of Weston, Wellesley, Newton, Hamilton and Manchester-by-the-Sea. A recurring theme in many of his designs is an appreciation of family and friends and the importance of a gathering place. These distinctive homes are respectful of their surroundings and offer vernacular appeal with modern day amenities. Much of Catalano's recent work has involved a synthesis of traditional craftsmanship and architectural design with sustainable building practices and highly efficient building envelopes and HVAC systems. Each project designed by the firm serves as a singular expression, resulting from involved clients and awareness of, and sensitivity to, their specific sites.
Commended for his traditionally inspired designs, often times with historic reference, Catalano retains a modern design aesthetic as well. His practice extends beyond private residences to commercial and institutional design, with project experience in restaurants, retail spaces, churches and condominiums. Currently, Catalano is working on the notable Nantucket Dreamland Theater located in the Nantucket Old Historic District. The project is a 15,000 square foot multipurpose theater and includes a 370-seat theater, a studio theater with a capacity of 140 and a meeting room overlooking Nantucket Harbor. The project is slated to obtain a LEED Gold rating from the U.S. Green Building Council (USGBC).
Catalano will accept his award at the The New England Design Hall of Fame dinner and presentation to be held on November 11, 2010 at The State Room, Atop Sixty State Street, Boston. Tickets can be purchased at http://www.nehomemag.com or by calling 800-609-5154, extension 0.
About Catalano Architects, Inc.
Catalano Architects, Inc. established in 1987, is dedicated to the pursuit of excellence in design and craftsmanship. The firm prides itself on the ability to listen to their clients and understand not only their functional requirements, but also their aesthetic aspirations. Their continuing success is built upon a close working relationship with their clients.
http://www.catalanoinc.com
###