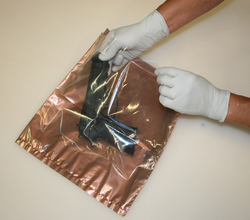 Braintree, MA (Vocus) January 14, 2010
Intercept Technology™ Evidence Preservation Packaging for short to long-term storage materials is new and especially targeted to the law enforcement industry. This is the next generation of evidence storage protection. Intercept delivers long-term defense, specifically designed to preserve all materials degraded by atmospheric pollution and the damaging reactive gases that cause corrosion, mold and mildew.
Intercept prevents the degradation of stored evidence by quickly negating both the contaminates in the environment and the contaminates coming from the evidence itself.
Stored weapons remain clean, rust-free and preserved during storage – ideal for confiscated weapons or armory storage. Intercept see-through bag allows for easy content verification during audits, eliminating the need for opening and resealing.
Intercept Technology Evidence Preservation materials are very clean without outgassing or particle shedding so there are no added chemical compounds introduced to the evidence. These materials meet the stringent environmental and packaging regulations of Europe and the US.
Also new and with the same beneficial properties as the Evidence Preservation bags are Intercept Technology Armory Storage bags. The Armory Storage bags are Intercept Fabric™ with an outer canvas-like cover for durability.
Intercept Marijuana Storage Bags are 2-ply kraft paper bags with an inner coating of Intercept, making them ideal for the safe storage of confiscated marijuana plants.
Intercept Technology's unique copper particles are a natural inhibitor for the molds and mildews that cause rotting, and also thwart the toxic spores for aspergillus microbes, keeping evidence storage areas safe for personnel.
About Liberty Packaging:
The Liberty Packaging Co., Inc., is a woman-owned small business based in Massachusetts. Liberty's principle product line is Intercept Technology Packaging for corrosion and static protection. Liberty provides Intercept Technology products to large and small manufacturing operations, as well as packing and crating suppliers, general distributors, medical and special packaging suppliers.
###