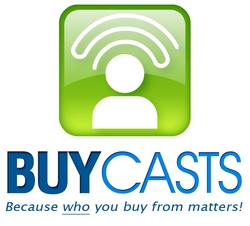 "In Buycasts, people have a way to leverage their social influence to positively affect their most trusted relationships and values, impacting their own local communities, right from Facebook", adds Meggs.
Orlando, FL (PRWEB) November 20, 2010
BuyCasts LLC., a community-centric, purchase-driven networking application integrated into the Facebook platform, announces their official launch, Fourth Quarter, 2010 (in beta), bringing a new level of social-transparency to commerce transactions in support of consumers, causes, and referral-worthy business on Facebook. Buycasts is free to join and use.
More than two years in the making, Buycasts launches just months after the release of the 2010 Cone Cause Evolution Study, outlining that more than 80% of consumers want to buy from companies supporting causes and are willing to switch brands or services in order to patron those who give back. These findings have positive implications for some and provide strong incentive for other businesses and organizations to engage in cause-marketing initiatives. As merchants and businesses across the board look for innovative ways to meet this demand, Buycasts answers.
Buycasts delivers a means for individual merchants to publicly brand their business with charitable causes of choice on Facebook, offering consumers insight to who they are in their community and what they believe in.
"Consumers today are paying more attention to where their dollars are spent and how that affects their local economy and the things they care about," said Tony Meggs, Buycasts' founder.
In the Buycasts application:

Merchants and businesses gain an avenue of cause-branding on Facebook that consumers are asking for.
Consumers in the market to buy something get on-demand reviews, transparency, and deals from local Merchants known by friends when they 'buycast' or post a purchasing interest.
Charitable causes receive new awareness and fundraising opportunity on Facebook.
Details of activity in Buycasts show up in the valuable and sought-after Facebook newsfeed space, promoting the businesses and causes a consumer believes in to everyone on Facebook.
Access into Buycasts is free and open to anyone with a Facebook account. Once a member, any individual who provides a product or service may also sign up for a free merchant account listing, detailing what they offer to the Buycasts' Facebook community.
Buycasts' launch details:

During the launch period, new merchants are automatically upgraded from a free, basic merchant account to a premium merchant account, free, for life (or as long as the account is active). Offering referral tracking and the ability to create coupons or promotions in Buycasts, the Premium upgrade is a $9.95/month value.
Buycasts is looking for key influential leaders in the social media, business incubation and community growth fields to take an active role in local implementation, helping their own community businesses leverage Facebook with Buycasts and is offering ongoing support, training packages, and offers press online and in print for those taking part in their 'Leaders' Launch'. Details can be found on the Buycasts Leaders' Launch Blog.
Non-profits are welcome to submit a contact form on the Buycasts website to request a package detailing how to implement Buycasts into their current Facebook marketing platform.
About BuyCasts
Buycasts, founded in 2006, is a socially-charged application integrated into the Facebook platform challenging consumers, businesses and causes to build deeper relationships and connect to each other based on shared values and economic interest. The Buycasts endeavor is to build the world's most valuable social referral network. This vision is guided by the desire to empower consumers, businesses, and charitable organizations to reach their full potential in terms of economic gain and social good. Buycasts' founder, Tony Meggs, has more than two decades of experience helping U.S. businesses grow profitably and is passionate about developing disruptive business concepts that empower people to leverage their economic footprint for social and personal gain. The Buycasts staff and community share this passion and are dedicated to these ideals whose time has come.
For more information, please visit the following:
Website: http://www.Buycasts.com
Launch videos: http://youtube.com/Buycasts
# # #