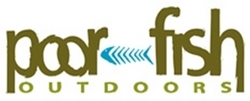 These Daily Deals offer customers outstanding value on name brand outdoor gear
St. Louis, MO (PRWEB) November 2, 2010
Poor Fish Outdoors, a leading online retailer of hunting, fishing and outdoor equipment, has launched its new Daily Deals savings program. Now through the end of the year, Monday thru Friday, Poor Fish Outdoors will offer one item at a substantial savings over the regular price, for 24 hours only.
"These Daily Deals offer customers outstanding value on name brand outdoor gear," Nicholas Harris of Poor Fish Outdoors said. "It is easy to stay up-to-date on Poor Fish Outdoors Daily Deals. Anyone interested in purchasing hunting gear, fishing gear and all types of outdoor equipment such as camping gear, archery equipment, knives and more can sign up to receive Poor Fish Outdoors daily Poor Fish coupons email alerts," Mr. Harris stated.
Recent Daily Deals have included Zippo Black Ice Lighters, Bushnell Falcon 10x50 Binoculars, Polar Training Watches and SOG Fusion Tactical Tomahawks. Some of the Daily Deals have included free shipping. This fall and all year round Poor Fish Outdoors can help make boating, fishing and camping more enjoyable by offering consumers Poor Fish Outdoors' Daily Deals savings up to 50% off MSRP. Consumers can also follow Poor Fish Outdoors' Twitter feed, @PoorFishDeals, for Daily Deals announcements.
Poor Fish Outdoors' website offers Daily Deals and everything outdoor enthusiasts need for archery, camping and hunting activities. Arrows, broadheads, bows, sleeping bags, blinds, tree stands, knives and many more name brand hunting and fishing products are available at a discount. With the holiday season approaching consumers can also check Poor Fish Outdoors' outdoor equipment gifts section for the perfect gift for a hunter, fisherman or fitness devotee's home, car, boat or ATV.
About Poor Fish Outdoors
For over 13 years, Poor Fish Outdoors has provided quality and top-of-the-line outdoor sporting products at the very best prices. We offer all of the brand name fishing, marine, hunting, camping, and cycling equipment you expect. Shopping our site provides you with the best prices and instant discounts, plus fast and cheap shipping on orders over $75.00. Poor Fish Outdoors always serves you with a customer service real person and offers 100% Satisfaction Guarantee and No-Hassle Returns.
For more information on Poor Fish Outdoors' Daily Deals, please contact:
Nicholas Harris
PoorFish Outdoors
nharris(at)poorfish(dot)com
877-420-4455
# # #