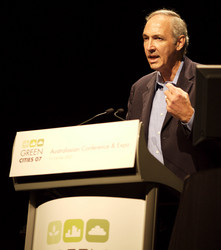 If It Doesn't Perform, It's Not Green.
Tucson, AZ (Vocus) February 4, 2010
Green building industry thought leader Jerry Yudelson will keynote the fourth annual Green Cities conference of the Green Building Council of Australia (GBCA) in Melbourne later this month. The green building consultant will speak on February 23rd, addressing green building business and performance issues with his presentation, "If It Doesn't Perform, It's Not Green." Yudelson also keynoted the first Green Cities conference in Sydney in 2007, speaking then to nearly 1,000 delegates.
According to the [conference organizers, property and environmental industry leaders from around the world will use the Green Cities 2010 event to tackle the issue of greenhouse gas production from Australian cities, which are estimated to account for 70% of that nation's greenhouse gas output. Green Cities 2010 is the largest and most influential green building conference in the Asia Pacific region.
"The major focus of the green building movement has become the performance of green-rated and green-labeled buildings," explains Jerry Yudelson, the principal of Tucson-based green building consultancy, Yudelson Associates. "What we're seeing is many high-level rated green buildings falling well short of predicted performance." Yudelson advocates reducing the certification level of green buildings that fall short of initial performance claims. "Certifying existing buildings as green uses actual performance data; new buildings should be held to the same standard," he added.
Green Cities is a joint initiative of the Green Building Council of Australia and the Property Council of Australia. Romilly Madew, CEO of the GBCA, said urban greenhouse gas production was one of the greatest challenges facing Australia today. "Sustainable, productive and healthy cities are crucial to Australia's future success," she said.
Yudelson says that research for his most recent book, [Greening Existing Buildings, showed him that buildings could reduce the energy and water use of existing buildings by 40 percent or more. "It's unacceptable to give green certifications to new buildings that don't meet the same standard," he said. "We need to hold performance of new construction accountable, if we are going to meet our goals for reducing carbon emissions from the built environment."
About Yudelson Associates
Yudelson Associates is a leading international firm in sustainability planning and green building consulting. The founder, Jerry Yudelson, is widely acknowledged as one of the nation's leading green building and sustainability consultants. He is the author of 12 green building books, including the forthcoming Dry Run: Preventing the Next Urban Water Crisis (New Society Publishers, 2010), and served for two years as Research Scholar for Retail Real Estate Sustainability for the International Council of Shopping Centers, a 70,000-member international trade organization. He is a frequent green building speaker at industry and professional conferences and chaired the industry's largest annual show, Greenbuild, for the past six years, from 2004 through 2009.
For more information please contact Jerry Yudelson, 520-207-9759, info(at)greenbuildconsult(dot)com or visit http://www.greenbuildconsult.com.
###