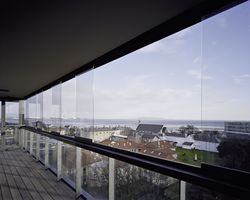 "With the NanaGlass SL25, building owners can reduce long-term maintenance costs and provide more rentable square footage from under-used space," said Ebrahim Nana, president of NanaWall Systems.
Mill Valley, CA (PRWEB) November 16, 2010
NanaWall Systems, the leader in large opening glass walls, announces the introduction of its newest product: NanaGlass SL25. NanaGlass SL25 has evolved from the European concept of balcony glazing and provides developers and builders advanced architectural technology for energy-efficiency and expanded living spaces.
Visit NanaWall Systems at GreenBuild 2010 i n Chicago at booth #1088 November 17-19.
The NanaGlass SL25 is a frameless opening glass wall system installed on the exterior of balconies, patios, and under second-story decks to create a pleasant living area sheltered from the elements. With no vertical stiles, the NanaGlass system provides uninterrupted views and natural light while forming an insulating air pocket over the building facade. The NanaGlass panels easily slide wide open and stack to one or both sides for natural ventilation on a beautiful day or quickly close to protect the balcony, deck or patio from wind, rain, pests, and birds. The NanaGlass individual sliding panels are top-supported in a single track and can ride a fixed balcony railing or extend all the way to the floor. The NanaGlass is available in custom sizes and configurations. Each individual panel can be a maximum of 2 feet 7 inches wide by 9 feet 10 inches tall in 3/8 inch or 1/2 inch glass.
NanaGlass technology takes standard balcony glazing to new levels. Far more then just a wind barrier, the modern European-style NanaGlass SL25 not only upgrades the appearance of existing building facades but significantly improves energy efficiency and reduces carbon emissions. Apartment and condo owners faced with mandatory building energy upgrades gain immediate benefits from the installation of NanaGlass.
"NanaWall Systems is proud to offer a clean, efficient solution for creating year-round living space for entertaining and connecting with the outdoors. With the NanaGlass SL25, building owners can reduce long-term maintenance costs and provide more rentable square footage from underused space," said Ebrahim Nana, president of NanaWall Systems. "In addition, our NanaGlass technical team provides custom-designed solutions for retrofits, new buildings and LEED projects."
The NanaGlass SL25 1/2 inch glass panels are engineered to withstand wind loads up to 80 stories in 90 mile-per-hour wind zones. A NanaGlass system installed on a high-rise balcony transforms unusable windy space into a pleasant year-round entertaining area and adds immediate collateral value to the unit.
First introduced in Europe as balcony glazing and later for decks and sunrooms, the NanaGlass SL25 is mature technology, stringently tested in controlled factory laboratories and field tested with more than half a million panels installed worldwide.
Additional features include:
o Hundreds of finish options. Standard finishes available are clear or dark bronze anodized, dark brown or white powder-coated. Custom finishes can be chosen from a range of anodized finishes and more than 200 RAL powder coated colors.
o SL25 version units can be supplied glazed with either 3/8" (10 mm) or 1/2" (12 mm) thick single tempered glass.
o All weather stripping consists of APTK and brush seals and is provided for sealing between panels and frame.
o Top-hung sliding/turning hardware. For sliding, attached to the upper corners of each panel are load-bearing stainless steel uni-directional carriers with two rollers each. Each roller has sealed bearings and is coated with toughened Polyamide to ensure sound-free running and resistance to extreme temperature.
o Patented locking hardware. Two-point locking with concealed top and bottom latches secures the first panel to be opened. The mechanism is operated by the pull of a spring tensioned cable.
o Engineered to handle wind loads up to 80 stories depending upon building location in 90 mile-per-hour wind zones.
o NanaWall is the North American partner of Solarlux, the world leader in operable glass wall technology.
About NanaWall Systems
NanaWall Systems has over 25 years of experience and is the exclusive North American partner of Solarlux, Germany, the world leader in operable glass wall technology. NanaWall Systems' opening glass walls provide flexible solutions to large architectural openings, from 8 feet to 320 feet and are used in houses, condominiums, restaurants, stadiums, schools and more. Nine of the NanaWall systems have been rated, certified and labeled in accordance with National Fenestration Rating Council 100/200. With certain glass options, Energy Star U value and SHGC requirements for certain climate zones can be met. The NanaWall is unrivaled in the industry for exceeding standards for air infiltration, water penetration, structural performance and forced entry. The NanaWall SL72 and SL73 aluminum folding systems are Miami-Dade County approved and can be used in hurricane areas. NanaWall Systems is a member of the U.S. Green Building Association. The aluminum-framed NanaWall uses recyclable aluminum with non-toxic powder-coated finishes. The wood-framed NanaWall can be FSC certified upon request and uses water-based finishes. For more information about the NanaWall, visit the award-winning Web site and photo gallery at http://www.nanawall.com .
On Facebook: facebook.com/NanaWall
NanaWall on Twitter.
###