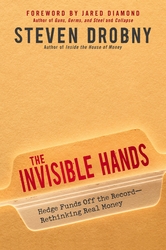 It is no longer acceptable to obscure losses and volatility behind benchmarks, long-term time horizons, or relative performance numbers, and that's why I wrote, "The Invisible Hands."
Manhattan Beach, CA (PRWEB) April 13, 2010
The crisis of 2008 was an unmitigated disaster for most investors. Markets from around the world posted huge declines, taking down with them some of the world's most venerable financial institutions, a wide variety of hedge funds, and a host of "real money" accounts such as pensions, endowments, and foundations. Regardless of who deserves blame, the world has not ended and investors must adapt to the new reality.
In his new book, "The Invisible Hands: Hedge Funds Off the Record - Rethinking Real Money," Steven Drobny interviews 10 global macro hedge fund managers who actually fared well in 2008, either by making money or at the very least, preserving capital. These managers, whose firms in aggregate manage over $100 billion, offer striking insights on how building better portfolios can mitigate future disasters.
In his first book, "Inside the House of Money," Drobny reached out to his professional network of top hedge fund managers in order to capture various different approaches to global macro investing as a strategy. Now, with increased candor, "The Invisible Hands" digs deeper, seeking to understand how certain key global macro principles can be incorporated by all investors. In interviewing his subjects anonymously, Drobny gets some of today's leading hedge fund managers to reveal intimate details of their investment and risk management processes, addressing: how they successfully navigated the crisis of 2008; how they are currently positioning for the road ahead; and how their experience in 2008 offers insights for reshaping real money management going forward.
"The Invisible Hands" examines:

How these managers found the best trade ideas - and profited in 2008 - while most other investors were failing.
Asset allocation strategies that make sense in dynamic markets and how leverage can be employed to achieve optimal portfolios.
The role of cash in an institutional portfolio.
Liquidity problems: how to manage liquidity issues in a portfolio context. Unlike pension and endowment plans which lost 30% of their assets, these managers dealt with liquidity issues head-on during the crisis.
Myths of money management - investment axioms touted by masses that have no base in sound investing.
Steven Drobny is cofounder of Drobny Global Advisors (DGA), an international macroeconomic research and advisory firm that counts many leading global hedge funds as clients. He is the author of the critically acclaimed "Inside the House of Money: Top Hedge Fund Traders on Profiting in the Global Markets" (Wiley, 2006). Prior to starting DGA, Drobny worked for Deutsche Bank's Hedge Fund Group in London, Singapore, and Zurich. Drobny holds a master's degree from the London School of Economics and Political Science and a bachelor's degree from Bucknell University. Visit Drobny Global Advisors for more information.
###