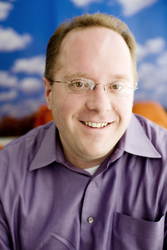 I'm a Husband, Father Brother, Son, Friend, Entrepreneur and Artist. I'm always trying to be better at each of these and all of these, at the same time.
New York, NY (PRWEB) January 18, 2010
John T. Peters is well known in the travel and tourism field as the founder of Zeus Tours & Yacht Cruises and now the CEO of Tripology. However, he is also an accomplished painter.
John started drawing at the age of five. He began painting while still in high school. Later, in university, he continued studying both art and business. There he started painting using different kinds of media beyond just oil and acrylic, picked up his first professional quality brushes, and began painting and drawing the first of his pieces he would sell.
After college John spent each summer on the Greek island of Mykonos, painting watercolors of the white washed village, blue domed churches and tiny winding streets, not to mention the myriad of nude Scandinavian women. There he learned to differentiate between the whites of Mediterranean sunlight and the whites of reflective island moonlight and began developing more of his own style mixing pencil and ink. Many days were spent on Super Paradise beach with friends from around the world. Many evenings were spent at the famed Scandinavian Bar, a subject frequently painted by artists like Thomas McKnight and John's longtime friend; Peter Apostolos.
Sacred to John are his Faces-in-the-Crowd™ drawings. Each is 3 feet by 2 feet and contains about 1,000 small faces, each one different from the next. This simple doodling technique has kept John busy for thousands of hours. Crowd themes include concerts, bullfights, Olympic venues, sporting events and car shows – anywhere where a crowd might gather.
For years John has painted each weekend in his studio. Personal interests include international travel and ethnic food. John, his wife and two children live just outside of Chicago.
Professionally, John joined Tripology as President and CEO in 2008. Since then, John has guided the team at Tripology in hitting critical growth milestones. In 2009, Tripology processed its 100,000 trip request and has assembled a network of nearly 15,000 Travel Specialists.
Prior to Tripology, John was Vice President of Business Development & Travel Trade where he led the successful launch of Endless Vacation Rentals® by Wyndham Worldwide. Earlier in his career, John founded Zeus Tours & Yacht Cruises, an international yacht cruise/tour and hotel business that grew to over $50 million in sales with over 100 employees in offices in New York, Athens, Rome and Buenos Aires. John successfully sold the business in 1999. No matter what his role, John has always focused on technology. John is a also a frequent speaker at trade shows and international meetings.
To contact John T. Peters, please see the following information:
John T. Peters
Web: http://www.johntpeters.com
Twitter; personal musings: http://www.twitter.com/johnTpeters
Twitter; at Tripology: http://www.twitter.com/tripology
LinkedIn: http://www.linkedin.com/in/johntpeters
John T. Peters' Travel Specialist Blog: http://agentblog.tripology.com
John T. Peters' Personal Blog: http://johntpeters.wordpress.com
To find out where John T. Peters is speaking next: http://johntpeters.wordpress.com/find-john-peters/
###