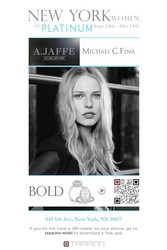 QR codes are rapidly becoming the most exciting thing to hit mobile advertising since the 'app' because consumers have control
Hoboken, NJ (PRWEB) September 15, 2010
TAPPINN Inc., A mobile applications platform and QR code creative agency today announced their collaboration with retailer Michael C Fina, PGI-USA (Platinum Guild international), and A. JAFFE to bring QR ("quick response") mobile codes to Fifth Avenue. The retailer's five massive storefront windows on 45th Street off NYC's famed shopping strip are dedicated to the women of New York and the platinum ring designs that symbolize their character. Each window features a different QR code that shoppers can scan with their smartphone cameras to view facts about the platinum jewelry designs being showcased.
After the QR code in scanned, shoppers connect with a Michael C. Fina mobile-optimized site that includes easy contact (email, call) function, videos, product galleries, pricing, mobile wallpapers, information about designers and product pages with social sharing function including the Facebook "like". There are 27 exquisite A. Jaffe platinum bridal designs being highlighted in the display, each with its own mobile page that shoppers can interact with and share from their phone.
Michael C. Fina is located at 545 Fifth Avenue, at 45th Street, and the campaign will run through October 11, 2010.
"At Michael C. Fina, we've been committed to providing our customers with exceptional service for 75 years. This means not only working one-on-one with customers here in the store to help them select the perfect ring, plan the perfect proposal, etc. but also educating potential customers by distributing information in their preferred form; online or through a Smartphone. The QR code technology is going to allow us to reach a whole new range of New Yorkers in a way that is both comfortable and convenient for them. Once they see what makes platinum the most desirable metal choice and A.JAFFE so special, we are confident they will want to come in and learn more." - Jacklynn Manning, Communications & Creative Director
A 2009 consumer study conducted by PGI-USA illustrated the importance window displays play in capturing the attention of pre-engaged women and men during the crucial engagement ring research period. More than 54 percent of the study's respondent window shopped stores during their engagement ring shopping period, and they reported they were more likely to enter a store if they liked the products they saw in the window.
"In addition to revealing the importance of retail window displays, our consumer study revealed that pre-engaged women and men expect online educational content from retailers," stated Michelle Peranteau, Manager of integrated Marketing for PGI-USA. "The Michael C Fina Mobile Storefront marries these two elements to create the ultimate platinum jewelry retail shopping experience. Before even speaking to a sales associate, shoppers will enter Michael C. Fina with in-depth knowledge of both platinum and their favorite A. Jaffe engagement ring."
Nick Ford, Co-Founder of Tappinn, believes Michael C. Fina's storefront will revolutionize the way retailers engage consumers, and do it in a nonintrusive way. "QR codes are rapidly becoming the most exciting thing to hit mobile advertising since the 'app' because consumers have control" stated Ford. "The demand for mobile smartphones continues to sky rocket and so will the demand for mobile web content. We believe consumers are craving to connect with their favorite products and stores and share those favorites from their mobile phones while shopping. Storefronts can be the ideal communication application of QR codes and retailers should embrace it."
In addition to debuting the world's first Mobile Storefront, the window displays will also feature model shots from A. Jaffe's new branding campaign, which pays tribute to the company's rich New York heritage. "Just as New York represents success, magic, romance and charisma, so does the confident woman who chooses a platinum A. Jaffe engagement ring from Michael C. Fina to symbolize her marriage," stated Pooja Johari, Marketing Director for A. Jaffe.
About Tappinn:
Tappinn is a web application used for the building of web sites and pages that are optimized for mobile. These "Smart Sites", make it easy for brands, retailers and agencies to deliver customized mobile content (pictures, video, text, coupons, product specs, ect.) to unique shopping environments using mobile tagging with QR codes. Page content can be geo-targeted around physical advertising media such as displays, posters, magazine ads, events, business cards, billboards and other forms of signage. The built in QR code management tool in the Tappinn platform also helps the advertiser generate, tag and track all responses to any QR codes used in a campaign. BEYOND the CODE http://www.Tappinn.com or follow us at http://www.twitter.com/tappinn.
About Platinum Guild International:
Platinum Guild International is dedicated to promoting Platinum and its pure, rare and eternal qualities to the consumer and the jewelry trade. PGI has offices in each of the world's major jewelry markets, providing information, assistance and education on all aspects of platinum jewelry. For more information please visit http://www.platinumguild.com.
About Michael C. Fina
Michael C. Fina is the perfect place to turn when celebrating all life's many milestones, big or small. As New York's premier family owned and operated retail destination, we have been providing customers with quality products and exceptional service for 75 years. The flagship store, located at 545 Fifth Ave. New York, NY, offers a stunning variety of engagement rings, wedding bands, fine jewelry, tableware, estate silver, and bath accessories.
For more information visit our website (http://www.michaelcfina.com), friend us on facebook (http://www.facebook.com/mcfina), or follow us on twitter (http://www.twitter.com/MichaelCFina).
# # #