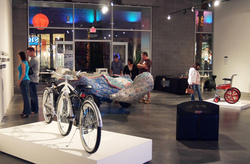 Gravity Was Everywhere Back Then.
Tempe, AZ (Vocus) August 25, 2010
See an artist's rendition of a house built out of love inside the ASU Art Museum. Attend the season opener from Stray Cat Theatre and learn that it's not wise to tell your girlfriend everything that you think about her. And view art where you buy stamps or where you shop for fashion. Tempe is a destination for thought-provoking art, sometimes where you least expect to find it.
This fall brings a full calendar of exhibitions and performing arts to this Southwestern college town. Visitors can find listings for all of Tempe's arts and cultural events at http://www.TempeScene.com.
The ASU Art Museum will host a new exhibition by well-known artist and filmmaker Brent Green titled, "Gravity Was Everywhere Back Then."
Brent Green's exhibition, September 4 through December 31, 2010, will feature his version of a house built room by room by Leonard Wood, a hardware store clerk in Louisville. When Leonard's wife Mary was diagnosed with cancer, Leonard started building, tragically hoping that he could save his wife's life with his labor. Even after Mary's death, Wood continued to build the house. Over the next 20 years, he worked on this physical symbol of his love for Mary.
Green will bring his reinvention of Wood's house from his Pennsylvania studio to ASU Art Museum. "Gravity Was Everywhere Back Then" features the house, along with sculptural elements and structures, installed in one of the Museum's galleries. Video and sound pieces will be shown inside and around the house to help visitors fully immerse themselves in the exhibit. Admission to the ASU Art Museum is free.
The Mill Avenue District in Tempe is known as a place for dining and nightlife. Now, it's also one of the best places to see alternative theatre. Tempe's quirky, edgy Stray Cat Theatre will begin its 2010-2011 season at Tempe Performing Arts Center with "Reasons to be Pretty," September 24 through October 9, 2010. This will be the Southwest premiere of "Reasons to be Pretty" from American film director, screenwriter and playwright Neil LaBute. "Reasons to be Pretty" is a love story about the difficulty of being in love. The show introduces Greg, who really adores his girlfriend, Steph, but thinks she has a few physical imperfections. When he casually mentions this concern to Steph, all hell breaks loose. Tickets are available at http://www.straycattheatre.org.
Most of us go to the post office for stamps or to mail a package. In Tempe, you can also visit the post office for art. The United States Post Office windows, located at 500 S. Mill Avenue (southwest corner of Fifth Street and Mill Avenue) are home to exhibitions highlighting local artists. Special emphasis is placed on work that is fun, eye-catching and unusual.
"Urban Metal," an exhibition that comments on how people are surrounded by industrial forms, materials and structures everyday, will be on display at the post office through November 18. 2010. Four Valley metal artists, Joan Waters, Jose Benavides, John Tuomisto-Bell and Ryan Lamfers, comment on how people interact with metal daily on the city streets, in school, at their homes and in businesses. Some artists take a humorous approach; others take a more serious look at metal.
Tempe Marketplace is Tempe's newest entertainment destination. In addition to shopping, dining and nightlife options, "The District" at Tempe Marketplace also made room for art exhibitions. The Night Gallery, a partnership with Vestar Development Corporation and the Arizona State University School of Art, creates an exhibition space for Herberger Institute for Design and the Arts faculty, students and alumni. Exhibitions rotate frequently in this experimental space, making art more accessible to Tempe residents and visitors alike. The Night Gallery is open Tuesday through Sunday evenings from 6-9 p.m.
A complete Tempe arts calendar can be found at http://www.TempeScene.com or call the Tempe Tourism Office for more information: 800-283-6734.
About Tempe Convention and Visitors Bureau
The Tempe Convention and Visitors Bureau, DBA Tempe Tourism Office, is a non-profit organization devoted to marketing Tempe, Arizona as a desirable visitor and group destination site. The Tempe Convention and Visitors Bureau's mission is to provide visitors, media professionals and meeting planners with information on Tempe hotels, Tempe restaurants, Tempe entertainment and local points of interest. To learn more about Tempe, Arizona please call 480-894-8158 or 800-283-6734 or visit our website.
###