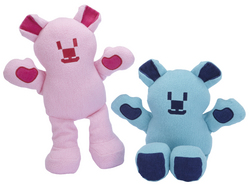 WASHINGTON, DC (PRWEB) February 10, 2010
Planet Fred™, a new environmentally responsible toy company, is set to debut their line of soft and colorful BamBoo Bears™ at the 2010 American International Toy Fair in New York, beginning on Sunday, February 14, 2010. Made from luxurious natural bamboo and organic cotton fleece in vibrant shades of pink and blue, BamBoo Bears bring a stylish new twist to the eco-friendly toy market.
BamBoo Bears stand 13 inches tall, and every inch has been designed with the environment and safety in mind. In addition to their super-soft bamboo fleece – a material that is often compared to cashmere – the bears have corduroy ears, tails and paw pads made from naturally grown hemp and organic cotton. Bamboo fabric requires less dye than cotton and produces much more vibrant colors. Only safe, low environmental impact, cold water dyes are used on BamBoo Bears. The bears' stuffing is made from renewable, hypo-allergenic corn fiber. With embroidered faces and a unique modern design, BamBoo Bears are the perfect companion for kids of all ages.
"BamBoo Bears design is based on my childhood teddy bear, Fred, who has been with me since I was an infant. I am expecting twins and want my children to have super-soft cuddly companions like Fred, but created with natural materials in an eco-friendly way," said Sandra Litsinger Lippard, the creator of BamBoo Bears. "Bamboo has inherent anti-bacterial and anti-microbial properties, and bamboo, hemp and organic cotton are grown without fertilizers or pesticides. Bamboo plants absorb 35% more carbon dioxide than cotton and can be harvested every three to five years without replanting, thus preventing deforestation."
Through a program with the National Arbor Day Foundation, Planet Fred will plant one tree in US forests for every six BamBoo Bears sold.
For more information, go to http://www.BamBooBears.com or visit us at Toy Fair Booth #5459 in the Earth-Friendly Product Zone from February 14 – 17, 2010.
###